State support enables ODU, EVMS integration to move forward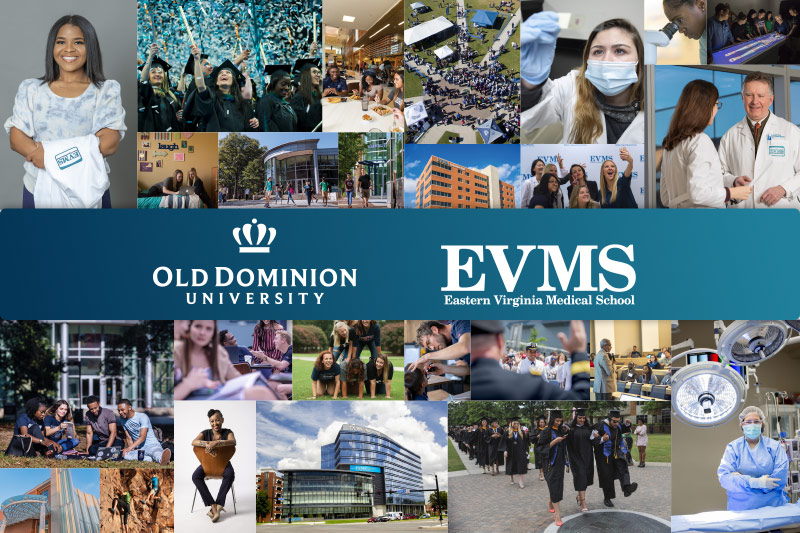 The Virginia General Assembly included funding to support the integration of Old Dominion University (ODU) and Eastern Virginia Medical School (EVMS) in its amended budget approved by Governor Glenn Youngkin Sept. 14, 2023. The allocation represents a significant step forward in the process to join the two institutions and create the most comprehensive health sciences center in the commonwealth.
ODU President Brian O. Hemphill, PhD, and EVMS President and Provost and Dean of the School of Medicine Alfred Abuhamad, MD, commended the Governor and General Assembly for sharing the vision for the future health sciences center.
"We could not be more pleased with this most recent development and continued progress. We are especially grateful to Chairman Barry Knight and Senator Louise Lucas for their advocacy and leadership throughout this process, as well as the support of all members of the General Assembly," President Hemphill said. "In addition to the outpouring of legislative support, we are extremely thankful for the efforts of Governor Glenn Youngkin and his team, including Secretary of Finance Steve Cummings, who have provided ongoing support and guidance throughout the process."
"EVMS is one of the few remaining standalone medical schools in the country and we are excited by the opportunity to expand our available resources, expertise and community reach so that we can continue to innovate and lead the way in medical and health instruction," President Abuhamad said. "I'm confident that the General Assembly and Governor Youngkin's decision prioritizes the long-term interests of our institution and its students, faculty, staff and community."
The integration of ODU and EVMS remains on schedule for Jan. 1, 2024. This fall, teams across functions will begin working more closely to ensure a seamless integration of services. In a joint message to their respective campuses, the presidents wrote, "As we approach the next stage of this process, we are excited about the future and all it has to offer through the joining of our two institutions, especially our collective insights, expertise and resources."
An integrated EVMS-ODU health sciences center would create the largest portfolio of health sciences degrees in the commonwealth. The combined institution would include a School of Medicine, School of Health Professions, College of Health Sciences and School of Nursing, along with the Medical Group and O.N.E. School of Public Health, a joint initiative among ODU, Norfolk State University and EVMS. The integrated center would provide 56 health sciences programs, including 18 not offered elsewhere in Virginia — such as Master of Surgical Assisting, Doctorate in Reproductive Clinical Science and Master of Art Therapy and Counseling.