National organization honors Dr. Abby Van Voorhees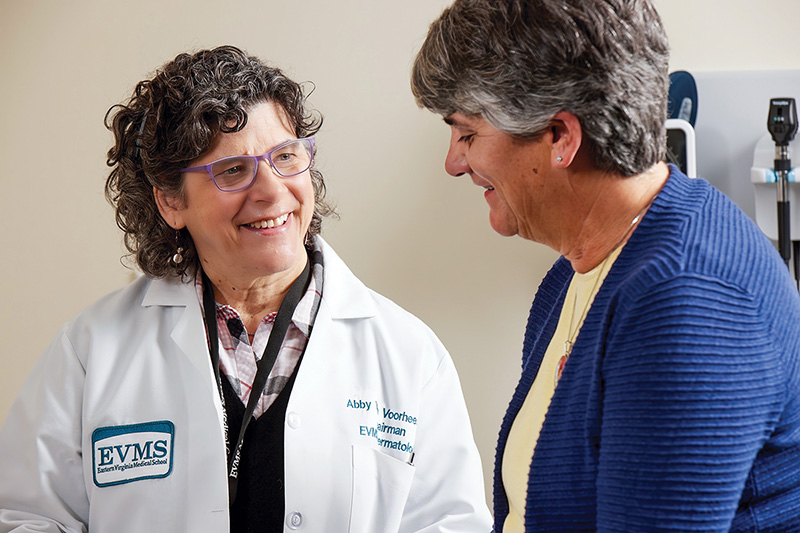 The National Psoriasis Foundation will honor Abby Van Voorhees, MD, Chair and Professor of EVMS Dermatology this year at its annual Commit to Cure Gala.
Dr. Van Voorhees is one of three honorees from across the country chosen for their leadership in the psoriasis and psoriatic arthritis community. She recently led the National Psoriasis Foundation as the first female chair of its Medical Board from 2014 to 2020.
Before her medical education journey began, Dr. Van Voorhees knew she wanted to make life better for patients. That's because her mother was diagnosed with breast cancer while she was in college. The experience left her feeling that she could do more for patients.
While earning her medical degree at Yale, she began working with people suffering from psoriasis. During that time, there were very few treatments for the disabling disease. She decided dermatology was an area she could focus on and truly make an impact.
Today, she trains EVMS Dermatology residents and organizes the department while providing excellent patient care.
The American Academy of Dermatology also honored Dr. Van Voorhees as a Patient Care Hero for her leadership at the Rapid Access Clinic at the EVMS Dermatology Practice in Norfolk.
Patients can walk in to the clinic without an appointment each weekday to see a dermatologist for an immediate concern like a rash or new or changing mole. Norfolk resident Kate Gleason walked into the clinic with a rash, which a dermatologist examined and biopsied. She was diagnosed with eczema and prescribed topical and oral treatments, and with continued treatment remains symptom-free.
Gleason had recently moved to the area. "I didn't have a local dermatologist. The Eastern Virginia Medical School Dermatology practice allows anyone with a skin condition to walk in and be seen immediately," Gleason said. "If the clinic hadn't offered walk-in appointments, I might have gone to a convenient care clinic, where I don't think I would have gotten the same level of care and expertise."
Experts say patients benefit from early detection of skin conditions and quick treatment. Early diagnosis is critical for many dermatologic conditions, such as melanoma, the most serious type of skin cancer. If melanoma is detected early, the five-year survival rate is 98 percent. If melanoma spreads to other organs, the five-year survival rate drops to 23 percent.
"Patients with a new or changing skin condition are often worried, uncomfortable and in pain," Dr. Van Voorhees said. "By offering walk-in visits every day, our team can quickly diagnosis and treat skin conditions so patients can be symptom free and return to their day-to-day routines."
Dr. Van Voorhees provides free skin cancer screenings every year to Hampton Roads residents. View this video about a woman who discovered a freckle was melanoma at a previous screening.
With her guidance, EVMS Dermatology partners with the Tacky Sweater 5k each December to bring awareness, advocacy and education to melanoma. Watch a video about the impact of that event.
To learn more about Dr. Van Voorhees's work, visit https://www.aad.org/skinserious/stories-kate-gleason.