How skin benefits from 'slugging'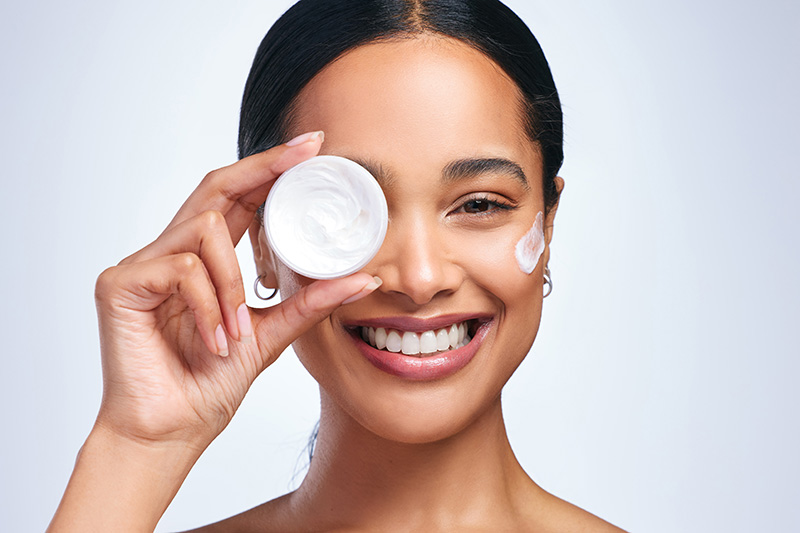 "Slugging" is the process of slathering your face with an occlusive moisturizer as the final step in your skincare routine. Occlusives act as a barrier to seal moisture into the skin. If done at night, you awake to plump, glowing skin.
Sophia Collins, Master Aesthetician at EVMS Med Spa, says that with the right moisturizer and ingredients, slugging can benefit any skin type.
Moisturizers can be divided into three groups: occlusive, emollient, and humectant. For the slugging trend, using an occlusive moisturizer/ointment is the way to go. Not all occlusive moisturizers are created equal, so it's important to know what to look for when shopping for one. Some of the most common occlusive ingredients are:
Petroleum and petrolatum
Silicones, like dimethicone
Beeswax
Shea butter
Squalane
"While they all work well, they are not created equal," says Collins. "Shea butter contains antioxidants which are also great for your skin. Not only do you get the occlusive benefits, but you also get a dose of nutrients. This is not the case with petroleum jelly, which has no moisturizing benefits or added ingredients. It basically locks in whatever serum/treatment cream your use before you apply it."
Many occlusive moisturizers come with additional active ingredients to enhance the effect they have on your skin. Some ingredients you might want to look for in your occlusive moisturizer are:
Hyaluronic acid – for hydration and pulling water into the skin
Ceramides – to rebuild your skin's natural protective layer
Retinol – to fight fine lines and acne
Antioxidants – to fight free radicals and protect your skin
Peptides – to help firm up the skin
Slugging prevents moisture loss.
Occlusives sit on the surface of your skin, preventing transepidermal water loss. TEWL is an expected bodily function, one that increases with age. As you get older your skin may naturally become drier, and your skin barrier function may function less effectively. A night of slugging can help prevent some of that TEWL so that your skin stays hydrated.
Slugging protects your skin from damaging elements.
Do you like to crank the heat when you sleep? That hot, dry air can suck excess moisture from your skin and lead to dryness. Chemicals in skin care products and other environmental elements can also dry out skin. Adding the protective layer of an occlusive of your choice can help protect your skin from these elements so they don't mooch that much-needed moisture.
Slugging restores lipids.
Skin lipids, your skin's natural fats, play an important part in skin structure and function. They help your skin retain moisture, keep out bacteria and other harmful invaders and maintain skin elasticity. The same things that draw moisture out of the skin can also affect the lipids on and in your skin.
Slugging can be done year-round.
Applying extra moisture in the drier winter months is always plus. If you tend to have normal to oily skin, this trend may not be the best for you in the more humid summer months. Drier skin types can always benefit year-round.
EVMS Med Spa treatments offer similar benefits.
The EVMS Med Spa partners with ZO Skin Health, and Collins recommends that anyone interested in the slugging trend may benefit from using the ZO Renewal Crème. This product promotes rapid moisture replenishment with more of a weightless feel and is suitable for acne-prone skin.
Another treatment Collins recommends is a specialized facial. "In three simple steps the HydraFacial will purify, nourish and protect your skin," says Collins. "To purify the skin, we will gently cleanse and chemically exfoliate the skin. This process extracts dirt and debris, clearing congestion. Nourishing takes place when the skin is infused with our wide choice of super serums, for radiant, healthy-looking skin. Protecting the skin involves our final step of hydrating the skin to lock in moisture and antioxidants for a beautiful glowing finish."
Learn more about the EVMS Aesthetic Med Spa and schedule an appointment by calling 757.226.8089.