Grad is one step closer on his stairway to the heavens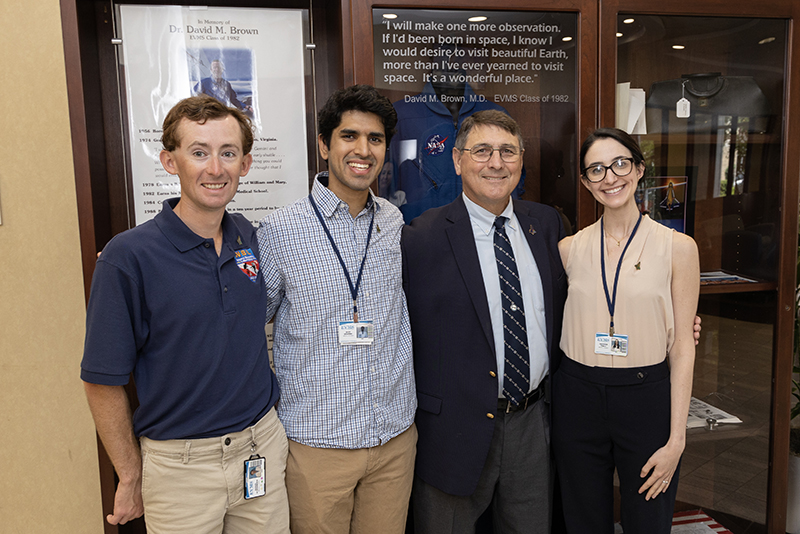 As a child, Sam Stephenson always had an interest in space. For six or seven consecutive summers (he's lost track of how many) Sam attended space camp at the U.S. Space & Rocket Center in Huntsville, Alabama.
On Saturday, May 20, when the future physician claims his diploma at the EVMS commencement ceremony, it will be the latest chapter in his quest to care for the health of astronauts. It's a journey that will take him to NASA and the perhaps to the stars — albeit it with a two- to three-month detour to Antarctica.
"I started med school unsure what specialty I wanted to go into and was trying to get experience/exposure to many different fields," Sam recalls. "When I discovered aerospace medicine, it was simply a perfect fit with all of my interests which no other specialty provided."
Sam found a supportive environment at EVMS. His interest in aerospace medicine won him the Captain David Brown Aerospace and Medical Research Scholarship, named in memory of an EVMS graduate who was among those killed in the 2003 crash of the Space Shuttle Columbia.
He also caught the attention of the Richard Britten, PhD, Professor of Radiation Oncology and Biophysics, who invited Sam to take part in his NASA-funded research. Working alongside Dr. Britten and his team, Sam completed research that was published and presented at multiple conferences.
"Dr. Britten was also very influential in helping me make the right contacts at the conferences I attended so that I could learn more about the field and meet the people I will be working with at NASA," Sam says. "I would never have been successful without him."
As he walks off the stage Saturday, Sam will be walking towards a combined four-year residency in internal medicine and aerospace medicine at the University of Texas in Galveston, Texas. The first two years are focused on providing Sam with a strong medical foundation and building his clinical skills. The third and fourth years are mostly at NASA's Johnson Space Center rotating in areas such as the flight medicine clinic, medical operations and the Neutral Buoyancy Lab (an underwater astronaut training facility).
"We will also have some rotations scheduled in other places such as rotating with the military for a month, and rotating at McMurdo Station in Antarctica for 2-3 months as there are experiences we need that are best learned out in the field," he says. "These years are really about learning the unique stressors that astronauts undergo and how we can apply medicine to their unique risks."
His time in the Antarctica will help him learn how to provide care in remote environments where there are limited supplies and little or no evacuation capabilities.
"We also have to learn to be flexible and respond to whatever situation arises as the physician team in Antarctica has to be the PCP, the urgent care and the ICU if it is needed," he explains. "This is the best mimic for spaceflight there is without actually going into space."
Though he expects to spend most of his time on the ground caring for astronauts, there is the possibility Sam will make it to space. He can apply for astronaut training every four years.
Among the attractions for him is the unique capability space offers for research.
"The research that is being done on the space station is beneficial not just to astronauts, but to all of humanity," he says. "There are many breakthroughs that are happening through the research being completed on the International Space Station. There is currently a clinical trial happening with a potential cure for Duchenne Muscular Dystrophy based on research that could only be completed in microgravity.
"It is global benefits like these that I want to help create so that we can further our knowledge. That is a large part about why I want to be a flight surgeon. In my daily job, I will be helping those who will be making these discoveries so that this important research can continue."
But even if he never makes it to space, Sam looks forward to a fulfilling career as a clinician.
"That is why I went to medical school and that is why I am going through residency so that I can work as a physician,' he says. "This is the job that I dream of doing, I will just have a very unique patient population."
Pictured above are recent student recipients of the Capt. David Brown Aerospace and Medical Research Scholarship, including from left, Sam Stephenson (MD Class of '23), Shiv Sharma (MD Class of '26), Gordon Iiams, MD (MD '82), a classmate of Dr. Brown who helped establish the scholarship, and Jovanna Tracz (MD Class of 2024). Not pictured are Eammon Kiyomura (MD Class of 2025) and Nolan Martin (MD Class of 2024).