Gastroenterologist David Johnson honored with national award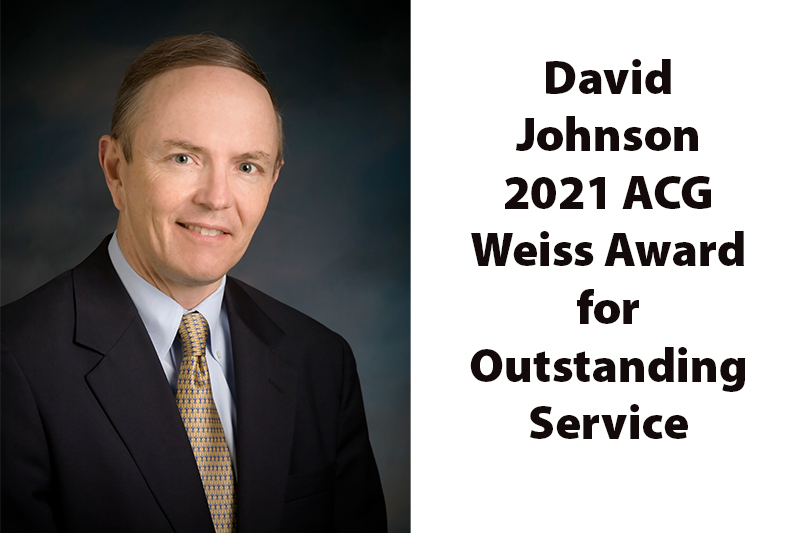 The American College of Gastroenterology (ACG) has given its highest honor to EVMS physician David Johnson, MD, Professor of Internal Medicine and Chief of Gastroenterology, in recognition of his dedication to his profession and the ACG over the course of his career.
Dr. Johnson received the coveted Samuel Weiss Award for Outstanding Service to the ACG during the organization's annual meeting in late October in Las Vegas. The award was established in commemoration of the founding father of the ACG and is presented periodically to a Fellow or Master of the College in recognition of outstanding career service.
The award recognizes Dr. Johnson as "an exemplary educator, consummate clinician and exceptional advocate for ACG." One of his nominators noted that "of the many individuals to whom the College is indebted for their tremendous contributions, none have exceeded Dr. Johnson's in terms of their breadth and depth."
He is the 39th recipient of the award that was first presented 50 years ago.
In his role as a advocate for the ACG, Dr. Johnson has helped advance colorectal cancer screening in the United States. He directed the first published study on the value of colonoscopy for colon cancer screening and was the physician who worked with then-Virginia State Senator Emily Couric to put through the historic first legislation to mandate colon cancer screening with colonoscopy as the preferred standard. This initiative set the model for other states that followed with similar legislation.
Dr. Johnson has made a particularly significant contribution to ACG's advancement and growth by recognizing the potential in young physicians, mentoring them, and creating opportunities for them to become leaders and contributors.
He is noted for his vision and drive to produce educational programs of distinction that are helpful to gastroenterologists and their patients. A nominator wrote of Dr. Johnson that "his service to the College through his multiple leadership positions is in and of itself a list most admirable, but importantly, he has brought his brand of energy and successful accomplishment to each of these roles."
Dr. Johnson's many ACG roles have included President; Governor (Virginia); ACG Trustee; and member of the Board of Directors, ACG Institute.
Among his career highlights, he co-chaired the ACG North American Conference of GI Fellows meeting for 17 years, was co-director for the ACG Annual Postgraduate Course in 1994, co-founded/chaired the National Medicare Carrier Advisory Committee, the GI Multi-Society Task Force on CRC Screening and the ACG guidelines committee for CRC screening. In the process, he co-authored 17 national guidelines, and was a member of the CDC Task Force for quality colonoscopy, Gastroenterology Technical Advisory Chair for the National Quality Forum, as well as steering committee member of the Quality Outcomes Task Force of the National Quality Forum.
Dr. Johnson has been a prolific author during his long affiliation with EVMS. Despite his primary focus on the clinical practice of gastroenterology, he has published extensively in the internal medicine/gastroenterology literature, contributing over 600 articles, chapters, invited reviews and abstracts in peer-reviewed journals and books. His areas of expertise focus on esophageal reflux disease, gut microbiome, sleep disorders and colorectal cancer screening.
Dr. Johnson co-edited the American College of Physicians (ACP) book "Dyspepsia," two GI Clinics of North America, "Obesity Issues for Gastroenterologists" and 2012 ACP CRC screening, "The Gut Microbiome: New Understanding and Translational Opportunities for Disease" and "Sleep Effect on Gastrointestinal Health and Disease: Opportunities for Promoting Health and Optimizing Disease Management." He is co-primary of a 2021 VA Catalyst grant to study microbial effects on GERD.
He has served on the American Board of Internal Medicine Board of Examiners in gastroenterology and in 2020 was reappointed to the Maintenance of Certification Board. His editorial roles include co-editor, Reviews in Gastroenterological Disorders, Journal Medicine; section editor, The American Journal of Gastroenterology; co-editor, ACG Education Universe; GI editor for Medscape Gastroenterology, GI Viewpoints, GI Consultant Corner and esophageal section Journal Watch Gastroenterology (NEJM).
Dr. Johnson holds a number of prestigious honors. He is a Master of the American College of Physicians, Master of the American College of Gastroenterology, National Institutes of Health Great Teacher, and is a recipient of the ACG Berk/Fise Clinical Achievement Award, ACG William D. Carey Governors Award, AGA Distinguished Educator Award, VA GI Society Master of Gastroenterology and Presidential Award, EVMS Distinguished Faculty Award and EVMS Dean's Outstanding Faculty Award.