EVMS Ophthalmologist named 2023 Healthcare Hero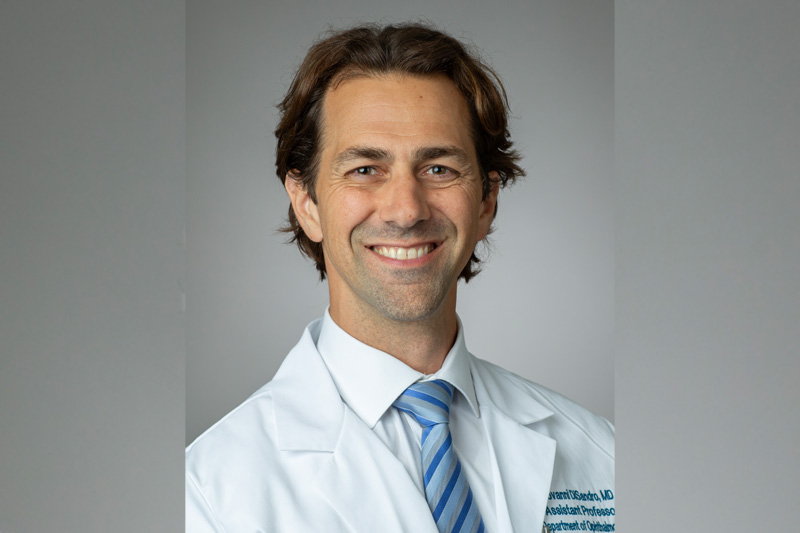 When Sidney Chandler's eye discomfort became overwhelming, she headed to the local hospital's emergency room near her home on Virginia's Eastern Shore.
Something was growing near her eye creating pressure in the ocular area and causing her eye to abnormally protrude. When a solution could not immediately be found in the ER, Chandler was referred to Eastern Virginia Medical School ophthalmologist Giovanni DiSandro, MD for his expertise in difficult cases and his quick response to her plight.
She was soon scheduled for outpatient surgery. "From the first moment I met him, I felt like he knew what he was doing," Chandler said. "I was very comfortable around Dr. DiSandro."
In the days following the procedure, Chandler revealed how surprised she was to experience very little pain and no swelling in the eye area. She will continue to see Dr. DiSandro as part of her treatment, and said she has no apprehension about returning to his care. "It's very wonderful if you have a doctor who genuinely and sincerely cares about his patients and goes above and beyond to find out exactly what's going on," Chandler said. "It's important how they talk to you and take care of you at the same time."
While Dr. DiSandro has participated in ophthalmology mission trips to the Appalachian region of Virginia and internationally to India and Peru, it is his commitment to the community where he was a student which drives the quality of his patient care. In June of this year, he was honored at the 2023 annual Healthcare Hero awards ceremony sponsored by the Hampton Roads publication Inside Business.
At HOPES (Health Outreach Partnership of EVMS Students), a student-run free clinic in Norfolk, VA, Dr. DiSandro has been giving his time and expertise for the past four years. There, he combines three of his passions in health care: a natural curiosity in ophthalmology, teaching the next generation of medical students, and providing care for those in the community who are uninsured. The clinic has served more than 1,000 neighbors in Norfolk and beyond who lack access to care.
"Dr. DiSandro truly enjoys this field of medicine. It shows in the high quality of care he provides to patients," said Tristan Kuhn, a medical student at EVMS and coordinator of the HOPES Ophthalmology Clinic. "He is very kind and easy to talk to and can make difficult situations seem less serious with lightheartedness to make patients feel more comfortable."
After graduating from EVMS and completing an ophthalmology residency there as well, Dr. DiSandro earned a fellowship to study oculoplastics. As an oculoplastics specialist, he handles many severe trauma cases such as vehicle accidents, firearm injuries and chemical or burn trauma affecting the eye area, with the goals of improved vision and to preserve or restore physical appearance.
Now the EVMS Ophthalmology Residency Program Director, Dr. DiSandro was offered the role because of his commitment to resident education, said Shannon McCole, MD, Chair of Ophthalmology at EVMS. "He was one of the hardest working residents that I have encountered and is always available, even when not on call, to handle urgent surgical eye problems," said Dr. McCole. "Many of these issues are in the middle of the night, and having a competent, reliable physician to supervise the residents and give our patients with urgent eye matters superior care is crucial to serving the community and meeting the mission of EVMS Ophthalmology."