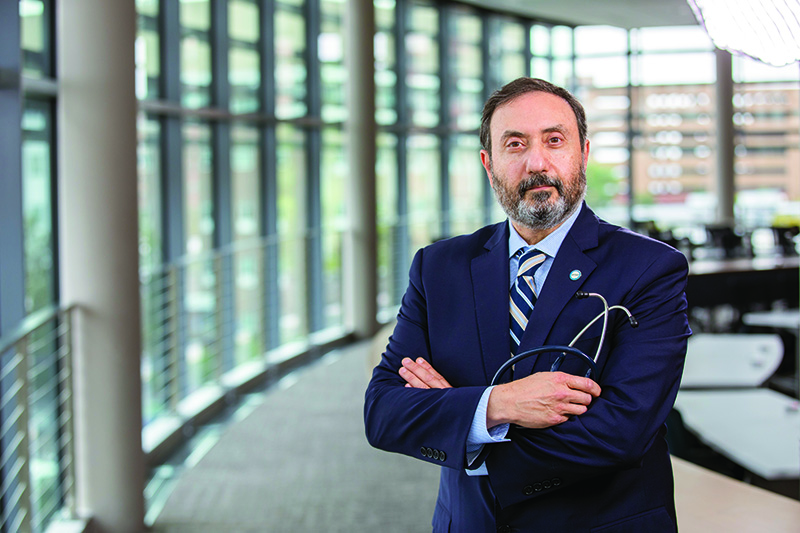 When Richard V. Homan, MD, retired last summer, EVMS' Board of Visitors turned to a respected and familiar face to fill the school's top leadership role.
Alfred Abuhamad, MD, a physician-scientist-educator, is recognized internationally for his expertise and leadership in maternal-fetal medicine, ultrasound, prenatal diagnosis, global outreach and patient safety. A passionate advocate for health equity, Dr. Abuhamad is known for his ability to bring people together to effect positive, lasting change, whether in the classroom, hospital or boardroom.
His new role as EVMS' Interim President, Provost and Dean of the School of Medicine requires innovative thinking and problem-solving skills, experience leading dynamic teams through challenges and opportunities, a passion for people and a vision for the future of medical education.
Those who know him best say Dr. Abuhamad is more than ready for the job.
With nearly 30 years' experience as a faculty member and member of EVMS senior leadership,
Dr. Abuhamad already is in tune with the school's community-focused mission and deeply invested in the institution's next steps, says Bruce Waldholtz, MD, Rector of the EVMS Board of Visitors.
"Dr. Abuhamad is universally and deeply admired, respected and trusted by the EVMS faculty, residents, fellows and students who have been lucky enough to work with him," Dr. Waldholtz says. "He has gotten off to an inspired beginning. He is listening and learning as we approach the next chapter in EVMS' long history of serving our community and educating the next generation of healthcare providers."
Dr. Abuhamad earned his medical degree from the American University of Beirut in 1985 before completing his residency in 1989 in obstetrics and gynecology at the University of Miami School of Medicine. He then completed a fellowship in maternal-fetal medicine in 1991 at the University of Miami and a second fellowship in ultrasound and prenatal diagnosis in 1992 at Yale School of Medicine. He came to EVMS later that year and has served as the Mason C. Andrews Chair in Obstetrics and Gynecology, Professor of Obstetrics and Gynecology and Radiology, Chair of Obstetrics and Gynecology, Vice Dean for Clinical Affairs and Medical Director of EVMS Medical Group.
"What is special about EVMS is our mission, and the core of our mission is about caring for the community and improving health outcomes while reducing health disparities," Dr. Abuhamad says. "We've done so much good in this area since EVMS' founding almost 50 years ago, and there's more work to be done. As Interim President and Provost, I'm focused on our mission, our community partnerships and on ensuring that we as a school are adequately resourced to deal with the challenges of healthcare for the next 50 years."
Craig Derkay, MD, the Fine Family Professor in Otolaryngology, Professor of Otolaryngology-Head and Neck Surgery and President of the Faculty Senate, says the group is "very enthusiastic" about working with Dr. Abuhamad.
"Dr. Abuhamad is a well-recognized leader at EVMS, and faculty members have faith and trust in him," Dr. Derkay says. "As a longtime faculty member, he's one of us."
Francis Counselman, MD (MD '83, Emergency Medicine Residency '86), the Chidester Endowed Chair of Emergency Medicine and Professor and Chair of Emergency Medicine, calls Dr. Abuhamad a "gifted clinician, academician and researcher."
"He is a pleasure to work with in any capacity," Dr. Counselman says. "He is a team player, consistently tries to find consensus and is the ultimate professional. He is the right man at the right time."
Key community partners agree. Howard P. Kern, President and CEO of Sentara Healthcare, calls Dr. Abuhamad a "dedicated, collaborative and forward-thinking physician and executive."
"Dr. Alfred Abuhamad and I have worked together for almost 30 years," Mr. Kern says. "He has shown himself to be a highly effective leader for Eastern Virginia Medical School. I am honored to work collaboratively with Dr. Abuhamad and the rest of the EVMS leadership to address both the immediate and long-term health professional training and care needs for those whom we are privileged to serve."
Jim Dahling, President and CEO of CHKD Health System, says Dr. Abuhamad is "a natural leader and has been a valuable partner to CHKD for decades."
"He has been a respected clinician, researcher, mentor, teacher and advocate within the healthcare community since he arrived at EVMS, and we are inspired by his spirit of collaboration and vision for the future," Mr. Dahling says. "We look forward to every opportunity to build and enhance the critical dynamic between CHKD and the medical school, and we are certain that Dr. Abuhamad's leadership will be felt in many ways throughout the healthcare community as well as our entire region."
Servant leader
As a leader in his field, Dr. Abuhamad has earned an international reputation for his research, advocacy and his willingness to give back.
Glynis Harvey, Chief Executive officer of the American Institute of Ultrasound in Medicine (AIUM), has worked closely with Dr. Abuhamad on a number of multilayered initiatives, including a year-long effort to encourage widespread use of ultrasound ("Ultrasound First") to minimize radiation exposure with other imaging modalities.
She calls Dr. Abuhamad, who has served in a number of AIUM leadership posts including President and Executive Committee member, "thoughtful, gentle, collaborative, strategic and inclusive."
"Dr. Abuhamad has been a key leader in the ultrasound space and a luminary at the AIUM," says Ms. Harvey, noting that Dr. Abuhamad has helped plan and implement awareness campaigns and events for the group and also serves as co-director of the Advanced OB-GYN Ultrasound seminar, AIUM's most successful and longest running course.
Beryl Benacerraf, MD, Professor of Obstetrics and Gynecology and Professor of Radiology at Harvard Medical School, has worked with Dr. Abuhamad on many projects over the last two decades. She says she often is struck by his "impeccable judgment and ability to focus."
"What's most impressive about Dr. Abuhamad is his ability to see the forest and not get lost in the trees," Dr. Benacerraf says. "He's objective but also kind, and he has a big heart. That's what makes him a great leader."
Dr. Abuhamad also established the International Society of Ultrasound in Obstetrics and Gynecology's outreach program and has led several ultrasound training missions to under-resourced communities in Haiti, Ghana and Somaliland. Those efforts made a profound impression.
"The outreach activities to remote areas around the world with scant resources afforded me the opportunity and the privilege to meet a lot of people and train faculty, midwives and students," Dr. Abuhamad says. "I built strong relationships that lasted a lifetime, but the experiences also have allowed me to see the other side of healthcare and how important it is to share the resources we have. My ability to share my knowledge has been the most important part of my career."
That impulse to reach out is also reflected in the many outside leadership positions Dr. Abuhamad has held. He is a past President of both the Society of Ultrasound in Medical Education and the Society for Maternal-Fetal Medicine (SMFM). While serving in the latter role, he worked closely with Judette Louis, MD, MPH, Chair and Associate Professor of Obstetrics and Gynecology at the University of South Florida's Morsani College of Medicine and Associate Professor in the school's College of Public Health.
"Of all of the leaders I've worked with, Dr. Abuhamad is the most pragmatic and thoughtful," says Dr. Louis, SMFM's Immediate Past-President. "It's clear that he cares about people, and his decisions reflect that care and attention."
"Of all of the leaders I've worked with, Dr. Abuhamad is the most pragmatic and thoughtful," says Dr. Louis, SMFM's Immediate Past-President. "It's clear that he cares about people, and his decisions reflect that care and attention."

Judette Louis, MD, MPH, Chair and Associate Professor of Obstetrics and Gynecology at the University of South Florida's Morsani College of Medicine and Associate Professor in the school's College of Public Health
Dr. Abuhamad has extended that same care to his research and writing. He is part of a national team of researchers studying the human placenta during early pregnancy. The project is supported by a $2.7 million grant from the National Institutes of Health. He is the author of several books and book chapters and more than 180 peer-reviewed journal articles. One of his books, "Practical Guide to Fetal Echocardiography," won the Book of the Year Award in 2019 from the British Medical Association, and his free, open-access e-book, "Ultrasound in Obstetrics & Gynecology: A Practical Approach," has been translated into 10 languages and downloaded and utilized by healthcare teams around the world.
Joanne Stone, MD, President-Elect of SMFM, says it is part of Dr. Abuhamad's nature to give back.
"He comes up with amazing ideas, brings the best people together, oversees the project without micromanaging and then gives others the credit," says Dr. Stone, Professor of Obstetrics, Gynecology and Reproductive Science at the Icahn School of Medicine at Mount Sinai. "His contributions are remarkable, but he's still so humble and generous with his time. It's just who he is."
Dr. Abuhamad is equally dedicated to clinical care and education. He is the founder and past Chair of the Council for Patient Safety in Women's Health Care and founder of the Ob Right Program, a nationally recognized program in patient safety and quality. He has received numerous national and international awards, including the 2019 Outstanding Faculty Award, the Commonwealth of Virginia's premier honor for education.
Beyond any single initiative, however, Dr. Abuhamad says he is focused on the entire campus community and the critical role EVMS plays in Hampton Roads. "I look forward to making decisions that are in line with the core values of who we are and why we are here and to being a servant leader to our faculty, staff, residents and students," says Dr. Abuhamad. "We have a moral responsibility to care for our most vulnerable citizens and to reduce health disparities in our community. I look forward to working collaboratively with our healthcare partners to effect positive change. Together, we can make a significant difference."
---
Subscribe to receive free copies of EVMS Magazine.
Subscribe