EVMS-NSU program to focus on pathways into healthcare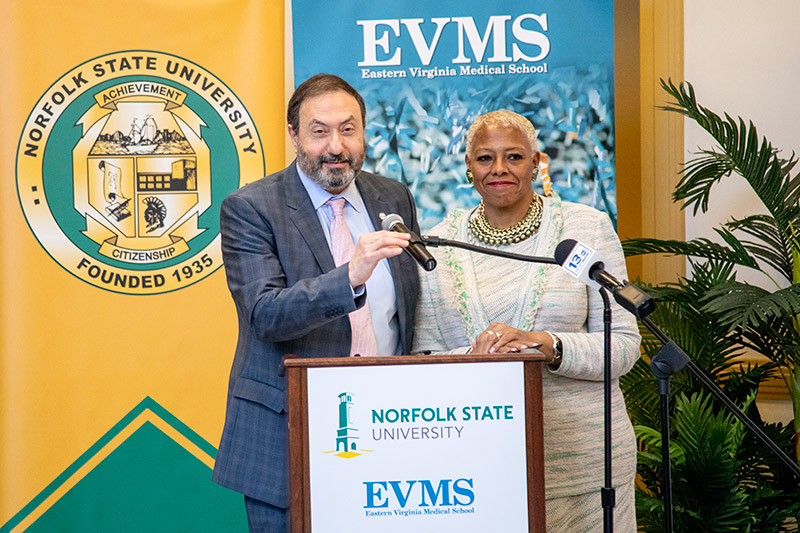 A new joint initiative between Eastern Virginia Medical School and Norfolk State University is dedicated to helping the two institutions better address regional healthcare disparities and attract more minority students into healthcare fields.
The EVMS-NSU Research and Training Incubator for Collaboration in Health Equity Initiative (ENRICHe) program also will enhance opportunities for collaborative research for faculty, staff and students at both schools.
"I am truly excited that our institutions were able to create an initiative that will not only help the community, but also continue to forge a longstanding relationship together," says Javaune Adams-Gaston, PhD, President of NSU, pictured above with Alfred Abuhamad, MD, President, Provost and Dean of the School of Medicine at EVMS. "This is what equity and social justice look like: Identifying a problem, working toward a solution through collaboration, for the equitable distribution of social, economic and healthcare resources to the community."
The ENRICHe program launched on Tuesday, Jan. 24, 2023, with the signing of a Memorandum of Understanding between Drs. Adams-Gaston and Abuhamad.
"Only about 8 percent of Virginia's roughly 22,800 active physicians identify as African American," says Dr. Abuhamad. "That's one of the reasons that our longstanding partnership with NSU is so important to EVMS. I am very proud of our track record in this area, and I'm confident the ENRICHe program will make a lasting and meaningful impact in its core focus areas."
During the signing event, Drs. Adams-Gaston and Abuhamad also announced a shared commitment to provide a total of $500,000 to the new venture, with $250,000 from EVMS and $250,000 from NSU. The funds will be invested as seed grants to support research on health disparities conducted by students and faculty at both institutions.
"This is an important commitment that both EVMS and NSU are making, and we expect support for the initiative to grow," Dr. Adams-Gaston says.
ENRICHe will provide networking experiences, along with capacity building and team research opportunities and resources for both NSU and EVMS community members. It also will engage NSU and EVMS trainees in long-term mentored research and professional development.
The idea of ENRICHe began "when key stakeholders from NSU and EVMS came together to discuss the wonderful assets we have jointly in our students and faculty," says Mekbib Gemeda, EVMS' Vice President of Diversity and Inclusion.
"We discussed that day how we might leverage our relationship to forge an even stronger partnership, one that advances health equity in our region," he says. "The ENRICHe concept was a result of that highly productive gathering."
Moving forward, the overall goal of ENRICHe will be to enhance research focused on health disparities, advance health equity and improve pathways to health professions careers for NSU students.
Planned initiatives include:
The development of a network of NSU and EVMS faculty focused on health disparities research through annual speed-networking activities and structured experiences for students to engage in research at both institutions and with national groups.

Training focused on grantsmanship and team science support in developing team projects.

Support and training for community-engaged research, along with timely subject areas such as data analytics and population health.

Opportunities for seed funds for competitive projects and training and grant opportunities.

The creation of an Annual Health Disparities Workshop to highlight the work of ENRICHe participants.