Dr. Francis Counselman retires from longtime role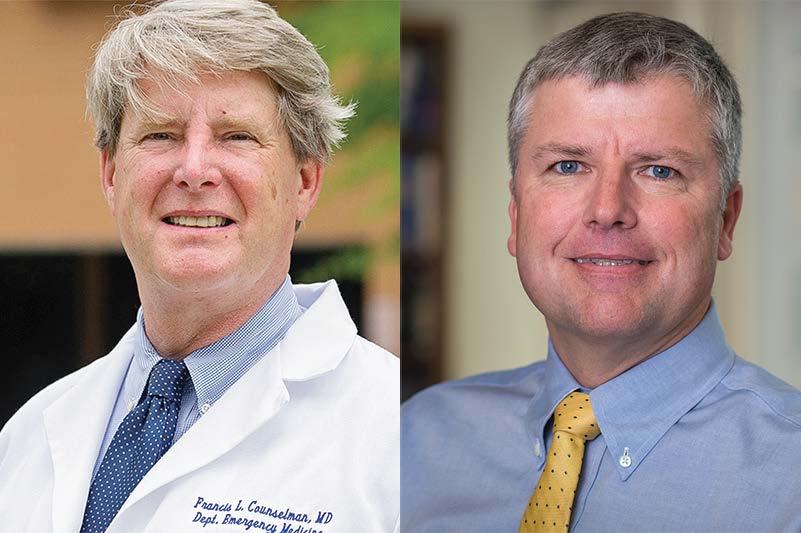 Francis Counselman, MD (MD '83, Emergency Medicine Residency '86), EVMS Foundation Distinguished Professor of Emergency Medicine and the Chidester Endowed Chair of Emergency Medicine, will retire from clinical practice effective June 30 and step down from his post as Chair of Emergency Medicine.

"I am excited for Dr. Counselman, who has more than earned his retirement after an incredible 30-year tenure as Chair, but I know the institution will miss him and his incomparable leadership," says Alfred Abuhamad, MD, Interim President, Provost and Dean of the School of Medicine. "Over the course of his distinguished career, Dr. Counselman has proven to be an exemplary academic physician. He is a superb clinician, gifted teacher and world-class mentor and scholar who is one of our most distinguished graduates."
Dr. Counselman has been an integral part of the institution for much of the school's history. After earning his medical degree here and completing his emergency medicine training at EVMS (in what was at the time a division of Family and Community Medicine), he joined Emergency Physicians of Tidewater, a private practice group of board-certified emergency physicians, and became part of the EVMS volunteer faculty.
He quickly demonstrated his outstanding leadership skills and his commitment to the institution. In 1992, after documenting the accomplishments of the division of Emergency Medicine and enlisting support from all academic department chairs, he founded the academic department of Emergency Medicine at EVMS (the first in Virginia) and was appointed the inaugural chair.

Dr. Counselman served as Program Director of the EVMS Emergency Medicine residency program from 1990 to 2010. During that time, the EVMS program grew to become one of the nation's most respected and it earned the longest accreditations possible. Under his leadership, four different fellowship programs were established in the department of Emergency Medicine. In recognition of his work, he received the national Residency Director of the Year Award from the Emergency Medicine Residents Association and the Parker J. Palmer Courage to Teach Award from the Accreditation Council for Graduate Medical Education.

He has held various leadership positions within EVMS, at local hospitals and in several local and state organizations. He is a former President of the Association of Academic Chairs of Emergency Medicine, the Virginia College of Emergency Physicians and the Norfolk Academy of Medicine. He was the first emergency physician to serve as President of the Medical Staff of Sentara Hospitals Norfolk (SNGH and Sentara Leigh).

At the national level, Dr. Counselman has held some of the most important leadership roles in organized medicine. As President of the American Board of Emergency Medicine, he led more than 31,000 board-certified emergency physicians in the U.S. He also is a past President of the Association of Academic Chairs of Emergency Medicine. He serves on the Board of Directors of the Educational Commission for Foreign Medical Graduates and the Foundation for Advancement of International Medical Education and Research.

Dr. Counselman has earned numerous awards at EVMS and at local, state and national levels. On three occasions, he received the John P. McDade Award for Research in Emergency Medical Care from the Virginia College of Emergency Physicians, and later he received that organization's highest honor, the Heatwole Career Achievement Award. He was honored twice with EVMS Dean's Faculty Achievement Awards – one for service as a community faculty member and the other for outstanding faculty achievement. He was named a healthcare leader by Inside Business in 2014 and has been honored on more than a dozen occasions in various top doctor listings. Medical staff at Sentara Norfolk General Hospital voted him as recipient of the 2014 Mason Andrews Community Service Award. He is a member of the Alpha Omega Alpha Honor Medical Society.

In 2017, the American College of Emergency Physicians presented him with the Award for Outstanding Contribution in Education, the organization's highest honor for education and teaching.

He authored or co-authored nearly 150 journal articles along with 19 textbook chapters and 10 abstracts and has been a highly regarded reviewer for the Annals of Emergency Medicine and the American Journal of Emergency Medicine. He was Editor-in-Chief of the journal Emergency Medicine. He presented more than 150 lectures at grand rounds, state and national professional organizations. In 2019, he was inducted as an inaugural Member, Master Educator in the EVMS Fine Family of Educators.
Upon Dr. Counselman's retirement, Barry J. Knapp, MD, EVMS Foundation Distinguished Professor of Emergency Medicine, will assume the Chair position.

"Dr. Knapp is a veteran member of the EVMS faculty and a seasoned academic physician," Dr. Abuhamad says. "We are fortunate to have someone with Dr. Knapp's knowledge, experience and skills to assume leadership of the department."

Dr. Knapp has been involved in both graduate and undergraduate medical education for the past 25 years. He currently serves as Assistant Dean of Ultrasound Education. Among numerous other roles, he is Residency Program Director for Emergency Medicine and Founder and former Director of the EVMS Emergency Medicine Ultrasound Fellowship.

Dr. Knapp earned his medical degree at the State University of New York (SUNY) Health Sciences at Syracuse, then completed residency training in Emergency Medicine at Allegheny General Hospital in Pittsburgh.