Dr. Abuhamad honored for stellar career in Maternal-Fetal Medicine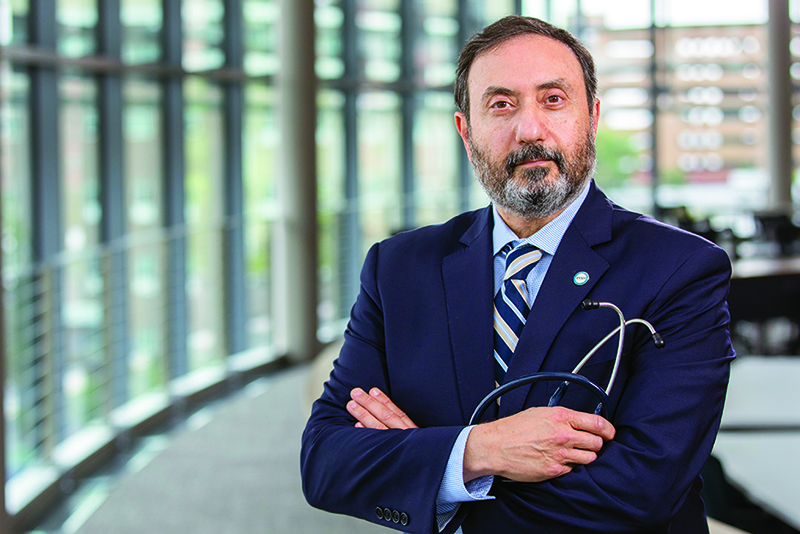 On the EVMS campus and in Hampton Roads, he is known as the President, Provost and Dean of the EVMS School of Medicine. But outside of the region, Alfred Abuhamad, MD, is better known as a renowned maternal-fetal medicine physician and researcher.
In recognition of a career dedicated to improving the health of mothers and their unborn children, the Society for Maternal-Fetal Medicine (SMFM) will present Dr. Abuhamad with its 2023 Lifetime Achievement Award during the organization's annual Pregnancy Meeting Feb. 9, 2023, in San Francisco. The SMFM represents more than 5,000 specialists in high-risk obstetrics.
SMFM President Joanne Stone, MD, calls Dr. Abuhamad a "world leader in the field of obstetric ultrasound.
"Dr. Alfred Abuhamad is an accomplished researcher, skilled clinician, and one of the most generous teachers and mentors I know," she said. "It is my honor to select Alfred as the winner for this year's SMFM Lifetime Achievement Award, but most of all, it's my honor to call him a colleague and a friend."
The SMFM's recognition of Dr. Abuhamad underscores the widespread respect for his expertise, innovations and leadership in maternal-fetal medicine, ultrasound, prenatal diagnosis, global outreach and patient safety.
Dr. Abuhamad is a pioneer in ultrasound development and education. His innovations in ultrasound have enhanced fetal diagnosis, and he has taken a proactive approach to sharing his knowledge. One of his books, a free-access e-book, "Ultrasound in Obstetrics and Gynecology: A Practical Approach," has been downloaded more than 92,000 times and translated into nine languages.
As President of the American Institute for Ultrasound in Medicine, Dr. Abuhamad oversaw a year-long initiative to encourage widespread use of ultrasound to minimize radiation exposure with other imaging modalities. He established the International Society of Ultrasound in Obstetrics and Gynecology's outreach program and has led several ultrasound-training missions to the developing world to include Haiti, Ghana and Somaliland. He also is a past President of the SMFM and the Society for Ultrasound in Medical Education.
Dr. Abuhamad is part of a national team of NIH-supported researchers studying the human placenta during early pregnancy. He is the author of several books and book chapters and more than 180 peer-reviewed journal articles. One of his books, "Practical Guide to Fetal Echocardiography," won the Book of the Year Award in 2019 from the British Medical Association.
He is founder and past Chair of the Council for Patient Safety in Women's Health Care and is founder of the Ob Right Program, a nationally recognized program in patient safety and quality.
Dr. Abuhamad received his medical degree at the American University of Beirut. He continued his postgraduate training at the University of Miami where he completed his residency training in obstetrics and gynecology and his fellowship in maternal-fetal medicine. He also pursued a second fellowship at Yale Medical School in ultrasound and prenatal diagnosis.
He came to EVMS in 1992. In addition to his institutional leadership roles, he is the Mason C. Andrews Chair in Obstetrics and Gynecology and Professor of Obstetrics and Gynecology. At EVMS, he is a past Chair of Obstetrics and Gynecology and former Vice Dean for Clinical Affairs and Medical Director of EVMS Medical Group.
Prior to his recognition by the SMFM, Dr. Abuhamad has received numerous national and international awards. For instance in 2019, he received the Outstanding Faculty Award, the Commonwealth of Virginia's premier honor for education.