30 inducted into EVMS Gold Humanism Honor Society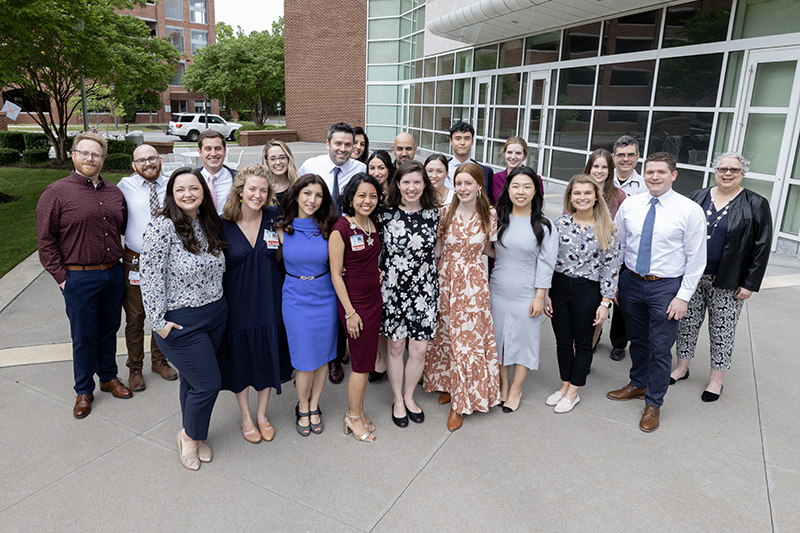 Congratulations to the newest members of the EVMS Gold Humanism Honor Society (GHHS).
GHHS recognizes individuals for practicing patient-centered medical care by modeling the qualities of integrity, excellence, compassion, altruism, respect and empathy.
Members may be selected as third-year medical students. Residents, faculty and administrators may also be recognized for humanistic practice at various stages in their career.
Humanism in medicine describes relationships between physicians and their patients that are respectful and compassionate. It is reflected in attitudes and behaviors that are sensitive to the values, autonomy, and cultural and ethnic backgrounds of others.
MD Class of 2024 Inductees:
Vishal Aggroia
Asma Azam
Jason Bard
Katherine Becker
James Black III
Samuel Dickerson
Devon Dryer
Megan Duggins
Virginia Peyton
Evans Yunjoo Hwang
Hannah James
Rayghan Larick
Jonathan Light
Elizabeth Lindsay
Nour Mhaimeed
Joshua Payne
Irene Peppiatt
Catherine Read
Juliana Remo
Lavinia Wainwright
Resident Inductees:
Brian Bird, MD, Ophthalmology
John Janousek, DO, Internal Medicine
Elizabeth Miller, MD, Obstetrics and Gynecology
Ashley Nelsen, MD, Emergency Medicine
Robert Probst, MD, Family & Community Medicine
Shekinah Vaughn, MD, Pediatrics
Faculty Inductees:
Stanley Brittman, MD, Associate Professor of Clinical Family and Community Medicine
Jessica Burgess, MD, Associate Professor of Surgery
Julie Kerry, PhD, Professor of Microbiology and Molecular Cell Biology
Jessica Quirk, MD, Assistant Professor of Family and Community Medicine
Award Winners:
Thomas R. Pellegrino Humanism in Medicine Gold Reflex Hammer Award: Scott Vergano, MD, Pediatrics
Leonard Tow Humanism in Medicine Award: Aaron Mills, DO, Internal Medicine
Leonard Tow Humanism in Medicine Award: Fatima Arif, MD Class of 2023