Volunteers needed to test treatment that may prevent Alzheimer's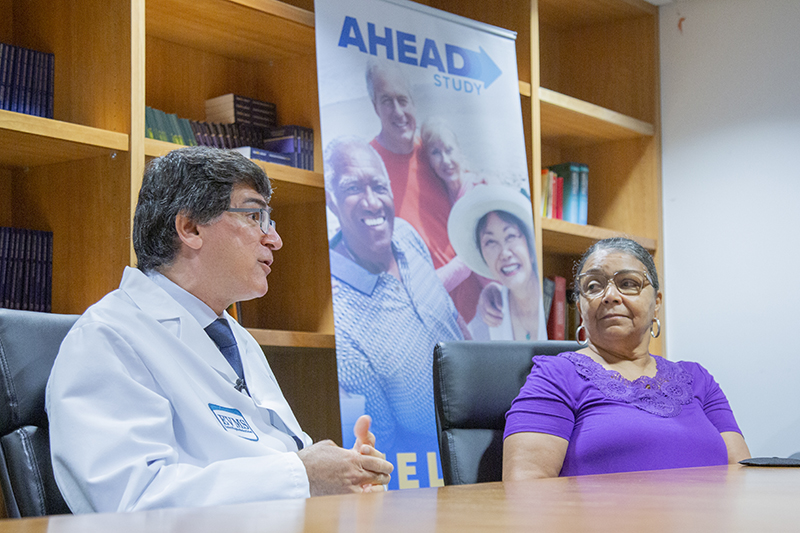 Carol Turner has witnessed the devastating impact of Alzheimer's disease on her family. Her father died from Alzheimer's in 2020. Now, her mother is battling the memory-robbing disease.
"It's a sad disease to see someone broken down like that and to see someone's mental state get in a way where they don't know what they are doing," Ms. Turner says.
So, when Ms. Turner learned of an experimental treatment that may prevent Alzheimer's disease, she jumped at the chance to take part in the research.
When she joined the clinical research project, she became a pioneer. She was the first African-American enrolled in what is known as the AHEAD Trial. The study is taking place at more than 100 research centers worldwide, including the EVMS Glennan Center for Geriatrics and Gerontology in Norfolk where Ms. Turner is enrolled. (She is pictured above with geriatrician Hamid Okhravi, MD, Associate Professor of Internal Medicine, Director of the Memory Consultation Clinic in the Glennan Center and leader of the AHEAD trial research in Hampton Roads.)
Ms. Turner began her four years of treatments last November. Her infusions take place at Sentara Norfolk General Hospital, which is assisting with the first-of-its-kind research.
Amyloid plaques are the main culprit in Alzheimer's, Dr. Okhravi says. These plaques can be present in the brain up to 20 years before someone shows symptoms. The AHEAD study is recruiting people ages 55 to 80. Once tests show that a potential study enrollee does not suffer any memory loss, they undergo a PET scan to look for the plaques on a scan of the brain.
"When the scan shows amyloid plaque, it means that people have pre-clinical Alzheimer's disease. These are people who have no memory problems whatsoever," Dr. Okhravi says. Yet, eventually, most will progress to Alzheimer's disease or some sort of dementia.
African Americans are twice as likely as non-Hispanic whites to develop Alzheimer's disease. It's important to include African Americans in the AHEAD study, Dr. Okhravi says, to test the effectiveness of the drug in Black Americans.
When Ms. Turner had her PET Scan, the image showed evidence of plaque in her brain. Like others in the research, she is taking regular infusions of the drug lecanemab.
"[Lecanemab] goes to the brain, binds to the amyloid plaques and our brain will clean it up," Dr. Okhravi says.
Previous studies show lecanemab to be a powerful medicine. Among a group of individuals with amyloid plaque who took the medication for a year and a half, the plaque disappeared in 81 percent of those studied.
"We're excited to have this to offer to our patients," Dr. Okhravi says. "I can't tell you how many times family members have come to us before and were asking about anything they could do and we really didn't have anything to offer them. Now, the answer is different."
EVMS has team with Hampton University to recruit additional minority participants in the study.
The AHEAD study is backed by funding from the National Institutes of Health and the company Eisai Inc. Learn more about the AHEAD study and watch a WAVY-TV story about the research featuring Ms. Turner and Dr. Okhravi.