Students, faculty, staff honored with commencement awards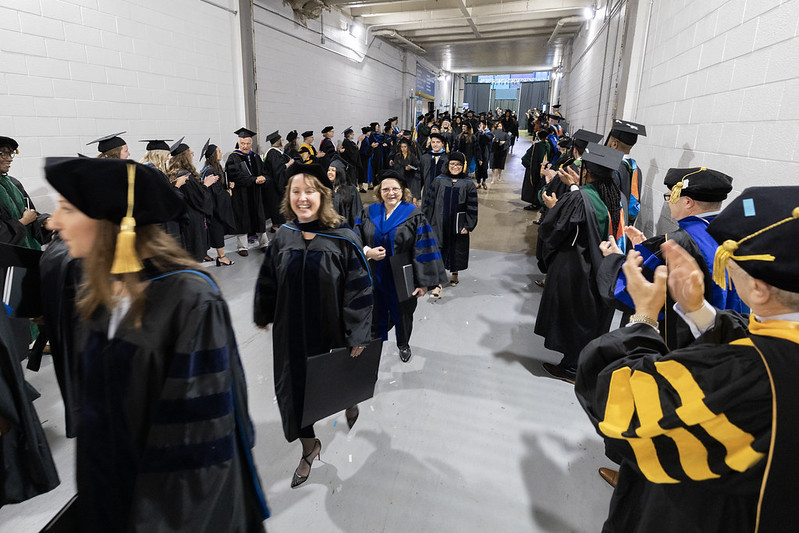 Commencement awards annually recognize members of the graduating classes of the School of Medicine and School of Health Professions, as well as faculty, staff and others chosen by the graduates. Categories of recognition include community service, leadership, academic achievement and clinical skills. Many awards pay homage to former EVMS faculty members and medical professionals who have had an enduring impact on their fields.
Award winners receive framed award certificates, and are acknowledged in the printed Commencement program and in other forms of media related to the Commencement ceremony and promotions.
Following is a list of the awards presented this year.
EVMS Student Government Association Staff Recognition Award: Joann Bautti, MPA
School of Medicine Awards
The Abraham Jacobi Award: Julia Payton Worley

The Award for Excellence in Addiction Medicine: Shaan Shiva Sharma
The Award for Excellence in Neuroscience: Robert Forestal McCauley

The Award for Excellence in Psychiatry: Taylor Sterling Wallace

The Desmond R.H. Gourley Award for Excellence in Pharmacology: Tayab Waseem

The Edward Levy Award: Caroline Benz

The Evelyn Lin, MD, Memorial Award: Surya Teja Gourneni

The EVMS Alumni Association MD Student Service Award: Riley Max Suter
The EVMS School of Medicine Award for Community Service: Gabriel Cody Enciso
The EVMS Student Government Association MD Leadership Award: Riley Max Suter
The Excellence in Emergency Medicine Award: Ethan Miller Smolley
The Gary L. Pittenger and David E. Scott Award for Excellence in the Anatomical Sciences: Gagan Kumar Gupta
The James F. Lind Sr., MD, Award: Andrew D. Rickelmann

The John Franklin Award: Aaron Blose Lopacinski

The Lloyd Damsey, MD, Memorial Award: Monica Mary Hana

The Mason C. Andrews Citizen Scholar Award: Marc Franco Tresvalles Nepomuceno
The Medical Student Obstetrics and Gynecology Performance Award: Jamie Keegan Geraghty
The Melissa Warfield, MD, Humanism in Medicine Award: Stafford George Brown III

The Military Medicine Award: Haley Michelle Ward

The Raymond V. van Wolkenten Memorial Student Award: Megan Lynn Harman
The Robert Campe Goodman and Augusta S. Goodman Award: Robert Matthew Seby
The Robert J. Faulconer Gold Medal: Aaron Blose Lopacinski

The Sir William Osler Awards:
Outstanding Intern Sharon Y. Hsu, MD
Outstanding Resident Katherine Bischoff de Caires, DO
Outstanding Physician Brooke Hooper, MD
Outstanding Basic Scientist Richard A. Britten, PhD
School of Health Professions Awards
The Award for Excellence in the Pathologists' Assistant Program: Natalie Kay LeGree
The David E. Scott, PhD, Award: Ashley E. Miller
The Eugene Stead Jr., MD, Award: McKenze Elizabeth Atkinson

The EVMS Alumni Association HP Student Service Award: Ashlee Ann Elizabeth Steeley
The EVMS School of Health Professions Award for Community Service: Megan Nicole Bianchetta and Kyle McKee
The EVMS Student Government Association HP Leadership Award: NaZae A. Clark
The Gary Dean Hodgen, PhD, Award for Excellence in Reproductive Clinical Science: Mais Abdelrahman Aladham and Antonietta Di Berardino
The Georgeanna Seegar Jones, MD, Award for Academic Achievement in Reproductive Clinical Science: Richard E. Slifkin
The Mason C. Andrews Award for All-Around Excellence in the Reproductive Clinical Science Master's Program: Carmen Elizabeth Abraham
The PAragon Award: Samantha Sherwood Maxfield
The Paul J. Fink, MD, Outstanding Art Therapist Award: Katherine Patrick Ketner
The Physician Assistant Preceptor of the Year Award: Peter Kemp, MD
The Surgical Assisting Anatomy Award: Synquisite Tiere Shamlee
The Surgical Assisting Faculty Award: Jessica Wilhelm, MSA, LSA, CSA, F-PRS
The Surgical Assisting Preceptor Award: Lauren Budyta, LSA, CSA
The Timothy J. Bos Memorial Award in Biomedical Sciences: Julian Briceño Hattler
Virginia Association of Surgical Assistants: Maribel Garcia