Physician leads development of standard ultrasound curriculum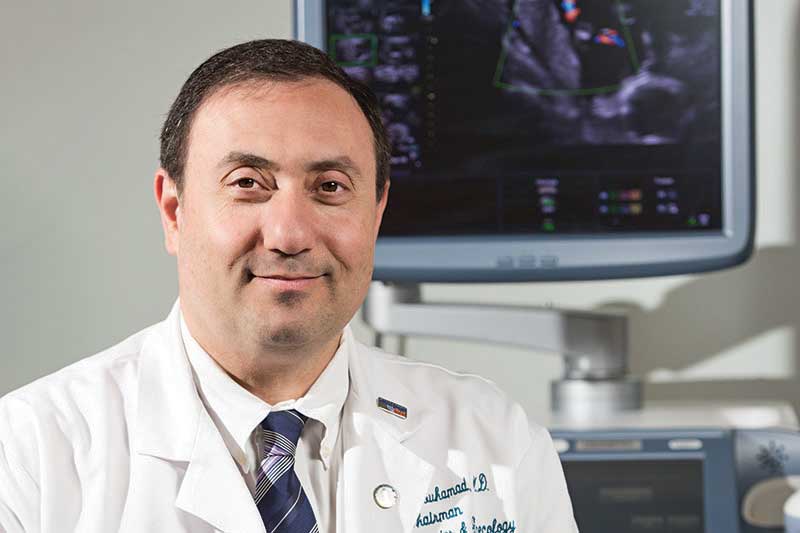 New OB-GYN physicians nationwide soon will be better prepared than ever to care for their patients, thanks in part to the efforts of EVMS' Alfred Abuhamad, MD, an internationally recognized expert in ultrasound.
Evidence suggests that the quality of ultrasound examination in clinical practice and ultrasound training in OB-GYN and radiology residency programs is inconsistent and can be improved. To address these issues, the American Institute of Ultrasound in Medicine (AIUM) convened a forum with representatives from across medical societies to develop a roadmap for quality improvement in ultrasound training in OB-GYN by establishing a consensus curriculum and competency assessment tools.
The AIUM turned to Dr. Abuhamad, Mason C. Andrews Chair in Obstetrics and Gynecology, Vice Dean for Clinical Affairs and Professor and Chair of Obstetrics and Gynecology, to lead the multi-society task force that developed the curriculum to standardize ultrasound teaching for OB-GYN residents.
The organizers believe this is the first time that a multi-society curriculum and competency assessment tools have been created for residency training in clinical imaging.
The results of this unprecedented joint effort were published simultaneously Jan. 3, 2018, in the American Journal of Obstetrics & Gynecology, Journal of Ultrasound in Medicine and Ultrasound in Obstetrics & Gynecology.
"This consensus-based curriculum and competency assessment will provide the tools to ensure standardization of ultrasound training in residency programs," Dr. Abuhamad said. "Ensuring optimal training of ultrasound in residency programs will result in improved quality of ultrasound examinations in clinical practice."
The curriculum describes essential topics in medical ultrasound training, a level-based framework to guide trainees to increasing competence, and a competency assessment that involves evaluation of still ultrasound images, movie clips, real-time scanning, or a combination of methods, that can be implemented by individual programs. The training will help minimize false interpretations of ultrasound scans.
Dr. Abuhamad is well known internationally for his innovative work in ultrasound, prenatal diagnosis, global outreach and patient safety. He is a former president of the AIUM, the Maternal Fetal Medicine Foundation and the Society of Ultrasound in Medical Education. Currently, he is President of the Society for Maternal-Fetal Medicine and Chair of the Ob Right Program, a nationally recognized program in patient safety and quality.
Learn more: see Dr. Abuhamad discuss details of the standardized curriculum.