New grant encourages collaborative research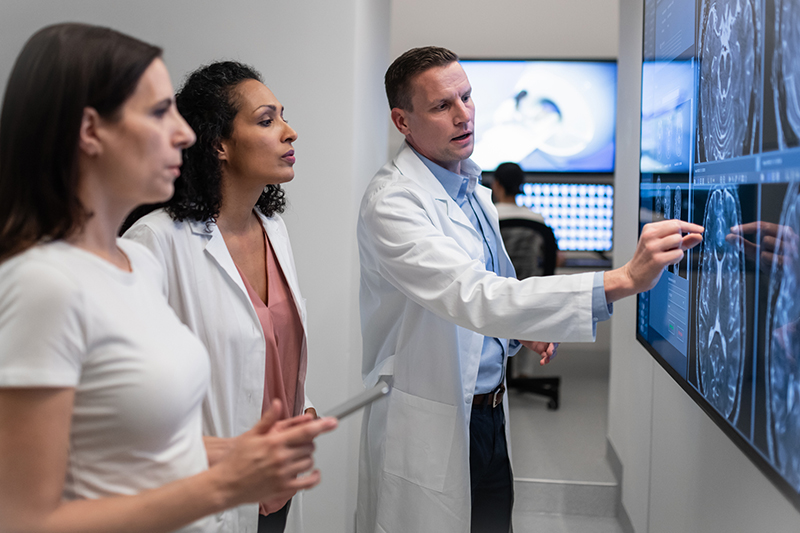 Applications are now being accepted for Luke Hiller Cancer Research Alliance (LHCRA) grants.
The LHCRA was established by Sentara Healthcare through a generous donation of the Hillier family. The alliance aims to increase collaboration among Sentara, Eastern Virginia Medical School, and Virginia Oncology Associates to advance oncology research in the communities that they serve. The gift will create a collaborative framework to advance oncology research, focusing on outcomes research to address the health disparities that exist in Hampton Roads.
"The primary focus of the Luke Hillier Cancer Research Alliance is to build collaborative oncology research teams and support transformative care for Hampton Roads," says John Semmes, PhD, Anthem Distinguished Professor of Cancer Research, Director of the Leroy T. Canoles Jr. Cancer Research Center, and Professor of Microbiology and Molecular Cell Biology. "Our partnership is poised to engage research expertise across the institutions to meet cancer health challenges and address health inequity."
Funding
The maximum allowed funding per request is $100,000.
Proposal Guidelines
Applicants must be a workforce member of Sentara, EVMS or VOA, and collaboration between organizations is strongly encouraged. Other community-based physicians may be included in a grant submission.
An applicant may be listed as the Principal Investigator in only one proposal but may be a collaborator on other proposals.
If the project currently has external funding, the applicant should explain why additional funding is needed.
All applicants must submit an initial Project Funding Request Form by the stated deadline. Project Funding Request Forms will be evaluated by the Luke Hillier Cancer Research Steering Committee. Selected applicants will be asked to submit a final detailed proposal, which will also be evaluated by the Steering Committee.
Application Process and Requirements
Step One: Submission of a Project Funding Request Form
This form is required before submitting a full proposal. Please submit the completed form to caallen@sentara.com. Forms will be screened for relevance to the goals stated in the request for proposals. Selected applicants will be asked to submit a full proposal.
Step Two: Submission of a Full Proposal
If invited to submit a proposal, a completed proposal package, including the signed Project Approval Form must be submitted to: caallen@sentara.com. Full proposals will have the following format:
Abstract format: word limit = 300 words. The abstract will include title, list of co-investigators, institutional affiliation, and summary including background, study hypothesis, and anticipated outcomes. Explain the significance of the problem addressed by the proposal and how the expected results will make a clear and significant contribution with improving the health of Hampton Roads as it relates to cancer.
Full proposal: page limit=3 pages, double-spaced. Full proposal includes title, list of co-investigators, roles of each co-investigator and how each investigator will enhance collaboration and ensure project success. The full proposal should also include the study hypothesis, study aims, population of interest, methods, analytical plan, and anticipated outcomes. It should include a budget, which is itemized, detailed, with justification for each budget item.
A completed Project Approval Form signed by all investigators should accompany each application.
Conflict of Interest (COI)
All investigators will be required to follow their own institution's COI policy.
Reports/Committee Updates:
An interim report will be requested 6 months after a grant award and six months thereafter until completion of the project. Duration of each project is expected to be one year.
Important Dates
Requests will be considered on a bi-annual basis.
| | | | |
| --- | --- | --- | --- |
| Project Funding Request Forms Due | Full Proposal Announcements | Full Proposal Due | Grant Award Announcements |
| Sept 2, 2022 | Sept 16, 2022 | October 24, 2022 | November 14, 2022 |
| February 20, 2023 | March 10, 2023 | April 17, 2023 | May 19,2023 |
Current Funding Period
Project Funding Request Form are due by 5 p.m. on Monday, Sept 2, 2022. Request forms submitted after that time will require approval by the Steering Committee. Please submit request forms to: caallen@sentara.com
Announcements for full proposal, Sept 16, 2022.
Full proposals due by 5 p.m. on Monday, October 24, 2022 (send to: caallen@sentara.com)
Announcement of Grant Awards by on November 14, 2022
Award period: One year
Eligible Expenses
Demonstrated unfunded or underfunded research initiatives
 Statistical Analysis
 Grant Writing Support
 Publication Support and publication fees
 Travel to approved scientific meetings associated with the therapeutic area of interest
 Support Research staff attendance at seminars and national meetings
 Marketing & Consortium Branding
 Educational Forums related to clinical trials.
 Community Awareness Activities
 Funding for additional staff /physicians associated with the consortium and not individual entity that is not funded through other avenues.
Questions
If applicants have questions related to the RFP, please contact Cindy Allen at caallen@sentara.com or Meredith Strand mbstrand@sentara.com.