National organization honors "living legend" Dr. Frank Counselman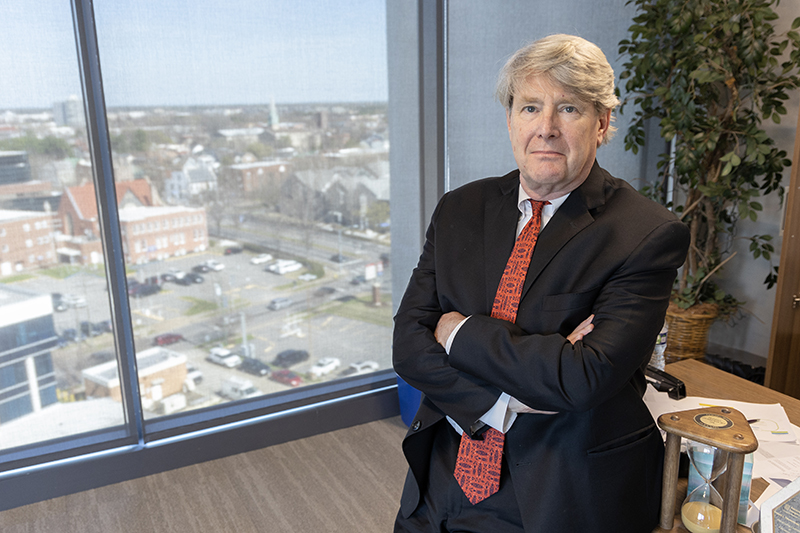 "Dr. Francis Counselman is a living legend in emergency medicine."
That excerpt from a nomination letter underscores the high regard colleagues have for Francis "Frank" Counselman, MD, founding chair of the department of Emergency Medicine at EVMS.
Dr. Counselman has retired from his emergency medicine practice and now serves as Vice Dean for Graduate Medical Education at EVMS. But colleagues have not forgotten about his contributions to emergency medicine.
On March 21, Dr. Counselman receives the 2023 Distinguished Service Award from the Association of Academic Chairs in Emergency Medicine (AACEM). The award is the organization's highest honor and the top award for a chair of emergency medicine. The AACEM helps emergency medicine chairs in North America achieve their educational, research, clinical and community service missions.
"This award is voted on by my peers — fellow chairs of emergency medicine — so that means a lot," Dr. Counselman says. "We're not a widely known school, so I'm really happy for the school to get that recognition, too."
AACEM President Richard Hamilton, MD, MBA, Professor and Academic Chair of Emergency Medicine at Drexel University School of Medicine, praised Dr. Counselman as a "wonderful human being who has been a tireless advocate on behalf of the specialty."
Lewis Nelson, MD, MBA, AACEM President-Elect and Professor and Chair of Emergency Medicine at Rutgers New Jersey Medical School, says Dr. Counselman is the consummate academic chair personified.
"He has held nearly every role one could hold in academic emergency medicine, including department chair, journal editor and board president," Dr. Nelson says. "I don't think I am exaggerating when I say that he is an inspiration to anyone in emergency medicine, and medicine writ large, who has had the opportunity to work with him."
Dr. Nelson says he his fellow chairs admire Dr. Counselman for his professionalism and humility.
"Somehow when Frank gets up in front of a room to speak about someone or something, which [was] often in his numerous leadership roles, the words just flow, almost poetically," Dr. Nelson says. "He somehow combines approbation, wit, and modesty into every comment he makes. He never fumbles over words, and he is logical and never offensive. He is an absolute gentleman, who provides an appropriate mix of reverence and transparency. You believe he really means what he is saying."
The nomination letter highlights Dr. Counselman's extensive involvement in the organization for more than 30 years.
"Dr. Counselman has truly brought honor and distinction to AACEM by displaying outstanding leadership in building a strong society through his significant contributions to the advancement of academic emergency medicine through leadership, education, research, clinical care, administration, public and professional service, and civic duties," the nomination reads.
A 1983 EVMS graduate, Dr. Counselman also completed his residency training at EVMS at a time when emergency medicine was still a division of the department of Family and Community Medicine. Dr. Counselman successfully advocated for the establishment of the specialty as its own department and then served as founding Chair. He stepped down from the post in 2022 after 30 years at the helm. At the time, it was the first academic department of Emergency Medicine in Virginia and the 26th in the nation.
Dr. Counselman oversaw the Emergency Medicine residency program for 20 years, building it into one of the most competitive and sought-after residency training programs in the country. About half of the program's 280 graduates to date continue to practice in Virginia. In recognition of his work, he received two national awards: national Residency Director of the Year Award from the Emergency Medicine Residents Association and the Parker J. Palmer Courage to Teach Award from the Accreditation Council for Graduate Medical Education.
He has held various leadership positions within EVMS, at local hospitals and in several local and state organizations. He is a former President of the Association of Academic Chairs of Emergency Medicine, the Virginia College of Emergency Physicians and the Norfolk Academy of Medicine. He was the first emergency physician to serve as President of the Medical Staff of Sentara Hospitals Norfolk (SNGH and Sentara Leigh).
At the national level, Dr. Counselman has held some of the most important leadership roles in organized medicine. As President of the American Board of Emergency Medicine, he led more than 31,000 board-certified emergency physicians in the U.S. He also is a past President of the AACEM. He serves on the Board of Directors of the Educational Commission for Foreign Medical Graduates and the Foundation for Advancement of International Medical Education and Research.

Dr. Counselman has earned numerous awards at EVMS and at local, state and national levels. On three occasions, he received the John P. McDade Award for Research in Emergency Medical Care from the Virginia College of Emergency Physicians, and later he received that organization's highest honor, the Heatwole Career Achievement Award. He was honored twice with EVMS Dean's Faculty Achievement Awards — one for service as a community faculty member and the other for outstanding faculty achievement. He was named a healthcare leader by Inside Business in 2014 and has been honored on more than a dozen occasions in various top doctor listings. Medical staff at Sentara Norfolk General Hospital voted him as recipient of the 2014 Mason Andrews Community Service Award. He is a member of the Alpha Omega Alpha Honor Medical Society.

In 2017, the American College of Emergency Physicians presented him with the Award for Outstanding Contribution in Education, the organization's highest honor for education and teaching.

He authored or co-authored nearly 150 journal articles along with 19 textbook chapters and 10 abstracts and has been a highly regarded reviewer for the Annals of Emergency Medicine and the American Journal of Emergency Medicine. He was Editor-in-Chief of the journal Emergency Medicine. He presented more than 150 lectures at grand rounds, state and national professional organizations. In 2019, he was inducted as an inaugural Member, Master Educator in the EVMS Fine Family of Educators.
Dr. Counselman says he enjoyed all aspects of his work – patient care, teaching and administration. Among his priorities as department chair was to highlight the accomplishments of his faculty. "I think it's important to recognize people who go above and beyond," he says.
A former high school teacher, he has a special attraction to working with students and residents.
"I loved teaching," he says, "and I loved pushing emergency medicine ahead because I think it's just a great specialty."