Faculty, staff honored for service and achievement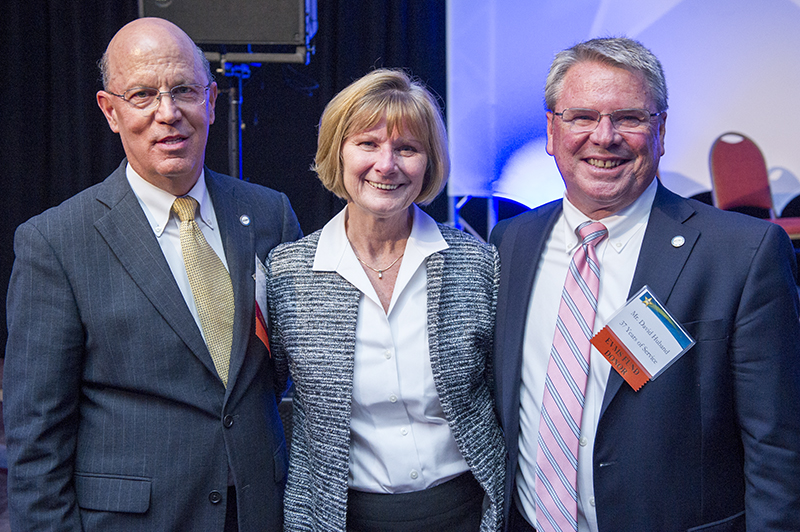 EVMS has honored a number of faculty and staff for long-term service and for outstanding achievement.
A record crowd turned out to witness the celebration at the 2017 EVMS Service & Recognition Awards Ceremony held Oct. 24 at the Norfolk Marriott.
The ceremony marked a milestone for the school: the first employee to achieve 45 years of continuous service. Sandy Huband, Administrator for Physiological Services, joined EVMS before the school opened its doors in 1973. She is pictured above with President Homan and with her husband, David, also and EVMS employee. Look here for the entire list of full-time faculty and staff honored for service milestones and here for more photographs from the event.
There was another first this year – the inaugural award to recognize leadership in diversity and inclusion. Here is a complete list of award recipients.
Diversity and Inclusion Champion: Ana Vazquez, MD (Family and Community Medicine)
Staff Awards for Rising Stars: Clifford Edwards (Family and Community Medicine)
and Lakisha Speller (Grants Accounting)
Staff Philanthropy Champion Award: Robert Armstrong (Sentara Center for Simulation and Immersive Learning at EVMS)
Staff Award for Community Service: Morgan Brown (Marketing and Communications)
Staff Award for Mentoring: Lovie Brown (Surgery)
Staff Awards for Excellence: Molly Brittain, (Surgery); Ashley Gentry (Development); and Valynda Powell (Parking and Facilities)
Staff Award for Outstanding Achievement: Leanne Smith (EVMS Medical Group)
Faculty Awards for Rising Stars: Jessica Burgess, MD, (Surgery); and Heather Newton, EdD (Graduate Medical Education)
Faculty Philanthropy Champion Award: Julie Kerry, PhD (Microbiology and Molecular Cell Biology)
Faculty Award for Community Service: David Lieb, MD (Internal Medicine)
Faculty Award for Mentoring: Diane Duffy, PhD (Physiological Sciences)
Faculty Awards for Excellence: Barbara Cubic, PhD (Psychiatry and Behavioral Sciences); Allison Knight, PhD, (MD Education); and Thomas Manser, MD (Internal Medicine)
Faculty Award for Outstanding Achievement: John Harrington, MD (Pediatrics)