EVMS welcomes most diverse incoming class in its history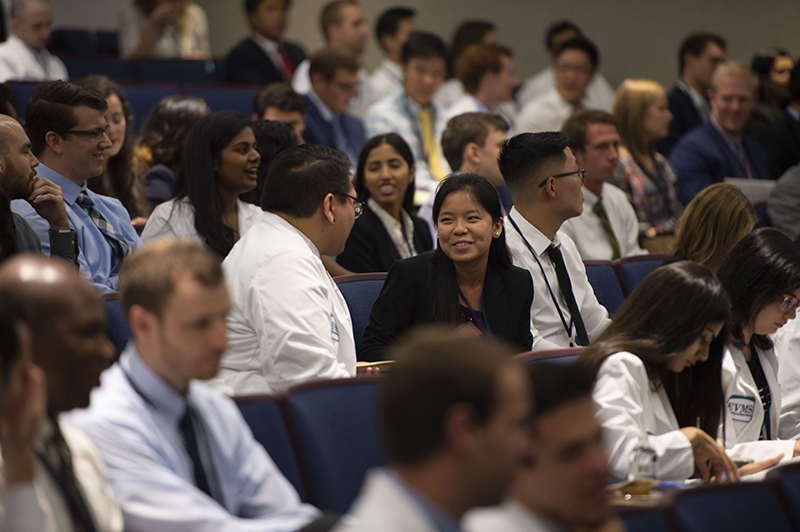 Every August at EVMS, Thomas Kimble, MD, Associate Dean of Admissions and Enrollment, starts seeing the fruits of his labor. This year, those fruits are especially sweet.
Dr. Kimble, also an Assistant Professor of Obstetrics and Gynecology, and the rest of the EVMS community are excited to welcome the most diverse incoming class of medical and health profession students in the school's history.
"Our diversity in gender, ethnicity, military service, nationality, sexual orientation, gender identity, physical ability, economic status and rural/urban background makes us strong," Dr. Kimble says. "This is an amazing incoming class of women and men from various backgrounds, experiences and talents."
Of the 151 incoming medical students, 35 are underrepresented minorities, which is six more than last year. Particularly noteworthy is that 11 of those are black men, a demographic that has been severely underrepresented in medical schools nationwide for 35 years. (Read the story about this disparity in EVMS Magazine.)
Of the 381 students entering programs in the EVMS School of Health Professions, 111 are underrepresented minorities, which is also six more than last year.
Through EVMS' holistic review process, implemented in 2015, the admissions committee is able to identify students who have the ability to succeed and who possess qualities important to the practice of medicine and healthcare. Those might include overcoming significant obstacles in life, being first-generation college students, volunteering in their communities, serving in leadership roles as an undergraduate and taking the initiative to shadow physicians and other healthcare providers.
Often, Dr. Kimble adds, after a school implements a holistic review process, the Medical College Admission Test scores and GPA scores of entering classes go down. "But our MCAT scores have steadily increased over the past five years," he says, "and our GPA scores remain stable."
The EVMS admissions committee and admissions staff have undergone extensive training on the holistic review process, including two visits from experts at the Association of American Medical Colleges. "We now have solid numbers that show a return on the investment in this training," Dr. Kimble says.
Strengthening pipeline programs at local schools and colleges also has helped increase diversity. Even EVMS itself has been a source.
"Our Medical Master's programs were a gold mine for the MD program this year," notes Dr. Kimble, referring to a program designed to make its graduates more competitive when applying for medical school. Six underrepresented minorities from the one-year Medical Master's program and three underrepresented minorities from the two-year program were accepted into this year's incoming MD class.
"Though we are diverse," Dr. Kimble says, "two things that these students have in common are their great intellectual aptitude and their desire to help and improve the health of others. I am fortunate to participate in their education in the medical and health professions arts."
View the story on WAVY-TV 10 about the increased diversity of EVMS' incoming class.