EVMS, ODU launch Doctor of Occupational Therapy program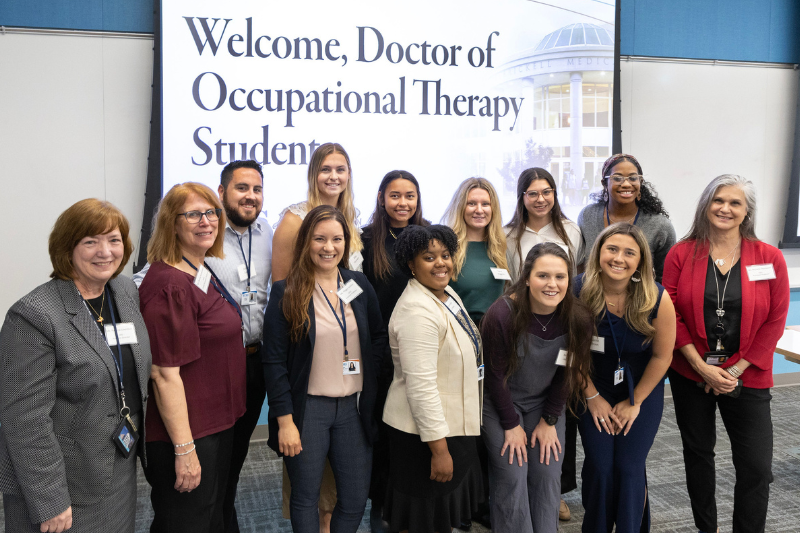 The inaugural cohort of the Doctor of Occupational Therapy (OTD) program, developed in partnership with EVMS and Old Dominion University, began its first classes June 5.
The first cohort includes nine students, but is eventually expected to admit 40 students annually. The program was created in response to regional demand and is designed to graduate diverse, inquisitive and innovative occupational therapy practice leaders and scholars.
"The Hampton Roads community has had a shortage of occupational therapy practitioners for some time," says Patricia Laverdure, OTD, OTR/L, Program Director and Assistant Professor of Occupational Therapy at Old Dominion University. "It is a very impactful shortage and one that I think we can make a real difference in addressing over the coming years of our program."
Dr. Laverdure welcomed new students during an orientation session held June 1 at EVMS and shared her vision for the program.
"We — myself and the rest of our faculty — worked hard to develop a program that specifically can reach into our community and address the really complex needs it has. We are really excited that you have chosen to take this journey with us to find ways that we can meet these occupational needs."
Brian Martin, PhD, MBA, Associate Dean for Administration in the School of Health Professions at EVMS, echoed this sentiment.
"I can't emphasize enough the word 'collaboration.' We're committed to quality education and the success of our students, all so that we can improve the health of our communities."
Occupational therapists help patients participate in the things they want and need to do through the therapeutic use of everyday activities. The three-year, capstone-based program will teach the fundamentals of healthcare and the delivery of professional practice across diverse settings and populations.
Coursework will address occupational therapy theory, clinical reasoning and advanced, evidence-based clinical practice. It will also focus on leadership, policy analysis, and advocacy, as well as analysis and application of scholarly literature and research.
Graduates will be prepared to work in complex healthcare systems and will be skilled in program assessment, data-analysis, planning and decision making. They will also be eligible to apply to obtain Virginia licensure.
By introducing the new degree, EVMS and ODU will continue to address health disparities in Hampton Roads, which include shorter life expectancies and higher rates of heart failure, diabetes and strokes compared to state and national averages.
View more photos from the Doctor of Occupational New Student Orientation.
Pictured above: Students, faculty and staff attended the first-ever New Student Orientation for the Doctor of Occupational Therapy program on June 1 in Waitzer Hall.