EVMS, ODU and Sentara explore collaboration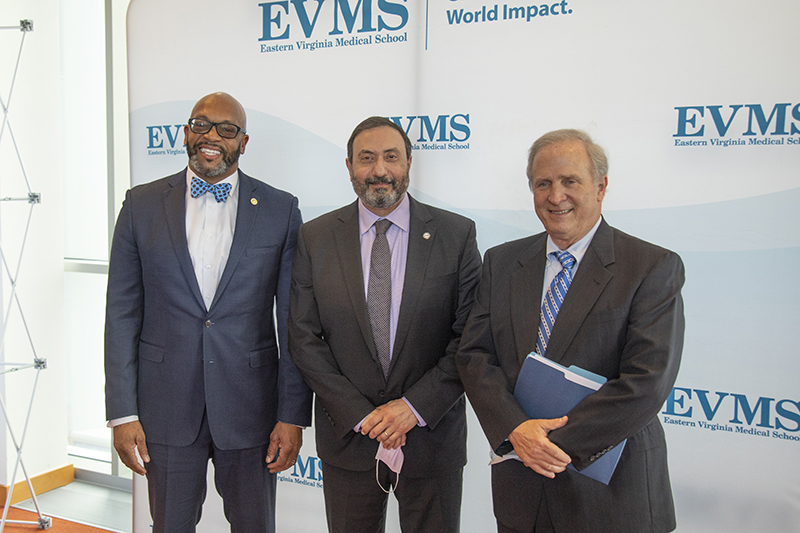 Leaders from EVMS, Old Dominion University (ODU) and Sentara Healthcare met Friday, Dec. 17, 2021, to commit in a Memorandum of Understanding (MOU) to explore ways closer alignment or affiliation could enhance their collaborative efforts to strengthen educational research and healthcare outcomes in Hampton Roads.
In the coming months, leaders from each institution will meet regularly to examine aligning or affiliating ODU and EVMS, in coordination with Sentara Healthcare, to create an academic health center; to seek enhanced and consistent funding of EVMS from the commonwealth and community partners; and to explore ways to better address healthcare disparities in Hampton Roads.
During an afternoon ceremony at the Slover Library in downtown Norfolk, the agreement was signed by Brian O. Hemphill, PhD, ODU President; Alfred Abuhamad, MD, EVMS' Interim President, Provost and Dean of the School of Medicine; and Howard P. Kern, President and Chief Executive Officer of Sentara Healthcare.
"This afternoon's public event and MOU signing represent a bold step forward," Dr. Hemphill said. "Collectively, we are stepping forward to publicly make a clear commitment to address health disparities facing our region and its people. We can do more, and we will do more. Through our programs, our research and our services, we will be stronger together."
A similarly honorable cause drove 35 citizens to create a fundraising campaign for a medical school in 1969, Dr. Abuhamad noted. They founded EVMS to address a significant shortage of physicians in Hampton Roads. The school's first class graduated in 1973.
"Their vision has been successful and the impact that EVMS has today on the medical and economic health of Hampton Roads is quite significant," Dr. Abuhamad said. "There is, however, a lot that still needs to be done. We cannot continue to turn a blind eye to the health disparities in our cities, especially in Norfolk and Portsmouth. And, we have a moral responsibility to come together to address this issue."
Dr. Hemphill noted the region is "leading in all the wrong categories," with high rates of heart disease, diabetes, infant mortality and cancer. Average life expectancies are also lower in Hampton Roads than other urban areas across the commonwealth.
Mr. Kern said Eastern Virginia and Hampton Roads represent the largest metropolitan area in the country that doesn't have an integrated, state university-based medical school.
"The investment required in such a school will strengthen returns to our communities that we are already seeing in areas of healthcare access, equity and public health," he said. "Healthcare is already at crisis levels in terms of talent development and workforce. Strengthening our ability to train and deploy health professionals here in Hampton Roads is essential. Access to federal and private funding for medical and biomedical research is critical to our future economic development, as it has done in Richmond, Fairfax and Roanoke."
Achieving this vision, Mr. Kern said, requires significant additional investment from other community partners and the commonwealth. "To fail in doing so is to risk the sustainability of our organizations and the health and well-being of our communities and future generations."
The MOU builds upon decades-long relationships of community collaboration among the institutions. The agreement acknowledges ODU and EVMS have key elements of an academic health center that the other lacks, but could be more closely aligned or affiliated to better accomplish their goals. Additionally, the MOU notes other entities in Hampton Roads, including Norfolk State University (NSU) and Children's Hospital of The King's Daughters (CHKD), also offer attributes that will contribute in meaningful ways to a regional academic health center.
As part of the agreement, each party will appoint key executive leaders from their respective institutions to meet regularly to explore the potential of creating an affiliated academic health center. They'll also investigate how enhanced collaboration would support their mutual goals in education, research and clinical outcomes in developing a sustainable financial model and enhancing their regional and national reputations.
At the start of 2022, the executive leaders will share data to produce a joint report to their respective boards analyzing options for accomplishing these goals. In addition, the data will be used to prepare a progress report to the governor and the chairs of the House Appropriations Committee and Senate Finance and Appropriations Committee by Feb. 15.
In August, ODU, EVMS and NSU signed a separate MOU to launch a joint School of Public Health. This effort received widespread support from Governor Ralph Northam and the General Assembly. Sentara also invested $6 million in grants to ODU, EVMS and NSU to support the process to apply for accreditation from the Council on Education for Public Health.
The MOU among ODU, EVMS and Sentara signals the latest commitment to expand educational opportunities, support the region's health workforce and improve the health of Hampton Roads residents.