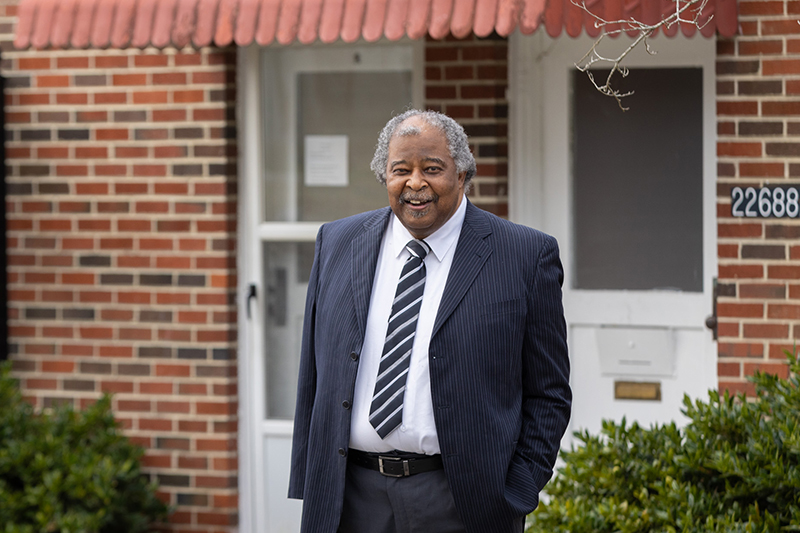 Alvin Harris, MD (MD '78), became interested in medicine because of beetles. Growing up in rural Franklin, Virginia, Dr. Harris and his six siblings played outside often, running with animals, inspecting insects.
"If you have a scientific mind in that environment, you ask questions," Dr. Harris says. "'Why do June bugs fly? Why do some insects have hard bodies and some have soft bodies?' From there, you get interested in biology, chemistry and physics. Before you know it, you're wondering what the human body is like and how it functions."
Dr. Harris' family encouraged his curiosity. His mother, a hospital custodian, purchased a newspaper every day for the family, so her children had something new to read and study.
"It also helped that I was the youngest child," Dr. Harris says. "One of my sisters wanted to be a teacher, so she practiced on me. Because of her, I knew my ABCs before I started school. I was already ahead." As a sophomore at Morehouse College in Atlanta, Dr. Harris considered two career paths based on the school's focused curricula, which encouraged professional or business tracks. Inspired by his love of science — and his distaste for finance — he chose medicine.
At EVMS, Dr. Harris found more than a medical school. He discovered a community of like-minded individuals and a vision for his future.
"EVMS leaders were focused on doing something radical: training physicians to be more humane, to have more empathy," Dr. Harris says. "This was a medical school for the community. Our teachers impressed upon us the importance of seeing the whole patient, not just a disease or condition."
"Because of my training at EVMS, I always felt that I owed my patients more than they owed me. It was a privilege to serve them." Dr. Alvin Harris (MD '78)
Dr. Harris took that approach with him when he returned to Franklin to practice general medicine. At the time, he was the area's only Black doctor.
"My patients were mostly from rural backgrounds and rather poor," he says. "As the only African American physician, I was busy. There were so many patients to see. Because of my training at EVMS, I always felt that I owed my patients more than they owed me. It was a privilege to serve them."
Dr. Harris also cared for incarcerated individuals and worked with leaders at Southampton Memorial Hospital, today Bon Secours Southampton Medical Center, when they installed a secure medical ward at the hospital.
"Everyone deserves high-quality medical care," Dr. Harris says, "and that includes inmates."
As an EVMS alumnus, Dr. Harris has served in a number of volunteer leadership roles. He is a member of the school's Diversity, Equity and Inclusion Committee and a mentor and facilitator for Health and Justice, a Community-Engaged Learning initiative that introduces medical students to the health needs of members of the region's incarcerated population. Dr. Harris also recentlycreated the Alvin E. Harris, MD '78 Endowed Scholarship, which will provide financial support to underrepresented minority medical students, including those from rural areas of Virginia.
"Dr. Harris' commitment to EVMS and our students is second only to his commitment to the health of the larger community," says Mekbib Gemeda, Vice President of Diversity and Inclusion. "As a donor and a mentor, he's been a tireless advocate and a trusted supporter for many years."
Dr. Harris says he remains invested in the future of the school that helped him turn his curiosity into a career.
"I am proud that EVMS continues to serve as a beacon for healthcare delivery throughout Tidewater," he says. "The school complements our local health systems and has been a magnet for attracting talent to this area. EVMS is helping to prepare the community for our future."
---
Subscribe to receive free copies of EVMS Magazine.
Subscribe