Women's health e-book makes a global impact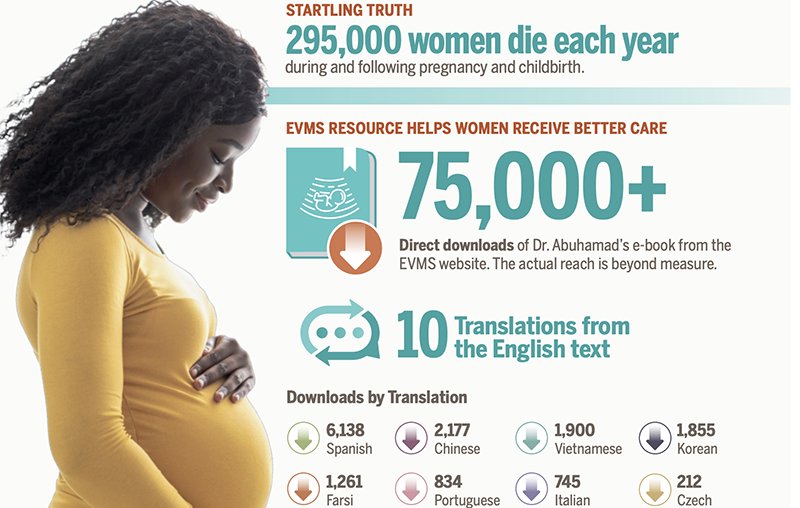 In his travels around the world as a medical volunteer, Alfred Abuhamad, MD, has seen firsthand how challenging it is for medical professionals to access reliable information on women's specialty healthcare needs. The experience led him to create an open-access, digital textbook that presents a comprehensive review of ultrasound in obstetrics and gynecology.
Since its publication in 2014, "Ultrasound in Obstetrics & Gynecology: A Practical Approach" has become a popular and sought-after resource by healthcare teams in at least a dozen countries. Edited by Dr. Abuhamad, the Mason C. Andrews Chair in Obstetrics and Gynecology, Vice Dean for Clinical Affairs, and Professor and Chair of Obstetrics and Gynecology, the book has been downloaded directly from EVMS' website more than 75,000 times and translated into eight languages, in addition to English. The full reach of the e-book is hard to capture, notes Dr. Abuhamad, because it has been widely shared beyond the EVMS site.
"Providing this free and open access educational material was one of the most impactful decisions in my academic career," says Dr. Abuhamad. "The book has been widely disseminated across the world and is now the main resource for basic obstetric and gynecologic ultrasound education in many countries."
To download the e-book, visit evms.edu/ultrasoundbook.
---
EVMS resource helps women receive better care
According to the World Health Organization (WHO), 295,000 women die each year during and following pregnancy and childbirth.
There have been more 75,000 direct downloads of Dr. Abuhamad's e-book from the EVMS website. The actual reach is beyond measure.
Downloads by translation
The list below outlines direct downloads of eight translations.
Spanish: 6,138
Chinese: 2,177
Vietnamese: 1,900
Korean: 1,855
Farsi: 1,261
Portuguese: 834
Italian: 745
Czech: 212
---
Subscribe to receive free copies of EVMS Magazine.
Subscribe