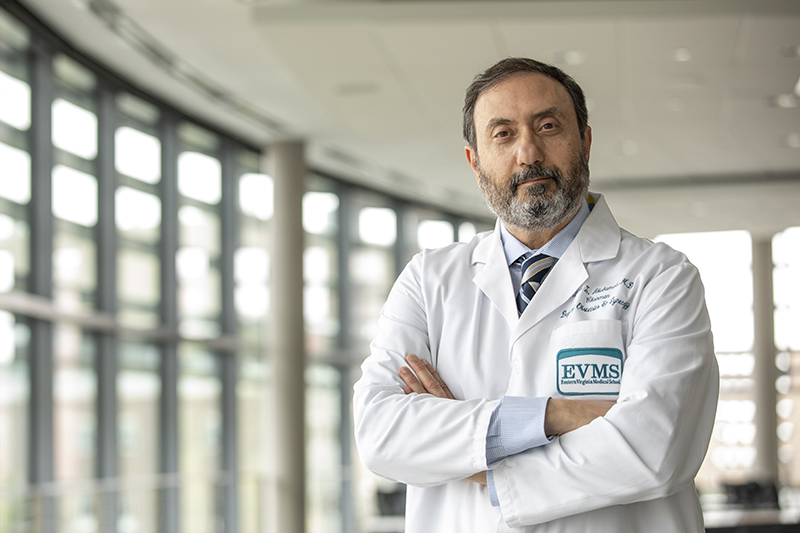 "You give but little when you give of your possessions. It is when you give of yourself that you truly give."
In 1923, the Lebanese-American poet Kahlil Gibran wrote these words in his famous book "The Prophet." Since that time, "The Prophet" has been republished into more than 100 languages, making it one of the most translated books in history.
I used that quote as an epigraph to "Ultrasound in Obstetrics and Gynecology: A Practical Approach," an open access e-book I wrote that has been translated to numerous languages and widely shared around the world as a resource for healthcare teams who want to expand their ultrasound training and provide better care to their patients.
The quote also comes to mind when I think of the many internationally-born members of our EVMS community, some of whose stories are captured in this issue.
I know firsthand the challenges immigrants face. I grew up during a civil war in Lebanon. After earning my medical degree from the American University of Beirut, I completed a residency in obstetrics and gynecology and a fellowship in maternal-fetal medicine at the University of Miami before pursuing a second fellowship in ultrasound and prenatal diagnosis at Yale University.
In 1992, I was recruited to EVMS to help start the Maternal-Fetal Medicine program. I was thankful then and now for the opportunity. It was a decision that changed my life.
EVMS is an institution that I love. It is where I have spent most of my academic career. It is where I have forged friendships and connections with colleagues who have challenged me and made me a better physician, researcher and administrator.
That is why I was honored to step into the role of Interim President, Provost and Dean of the School of Medicine in August following the retirement of Dr. Richard Homan.
As Interim President, my primary goal will always be to support and enhance the mission of EVMS and to strengthen our education, research and clinical activities. A major focus of mine will be expanding key partnerships and community engagements to improve the health of our minority citizens. Indeed, as a community medical school, every decision that we make has to be weighed for its impact on reducing health disparities.
As the author and poet Mr. Gibran wrote, "It is when you give of yourself that you truly give." That message is at the center of EVMS' mission, too.
I am grateful for the opportunity to serve you and look forward to working together toward improving the health of Hampton Roads.
Sincerely,
Alfred Abuhamad, MD
---
Subscribe to receive free copies of EVMS Magazine.
Subscribe