EVMS groups work to address maternal health disparities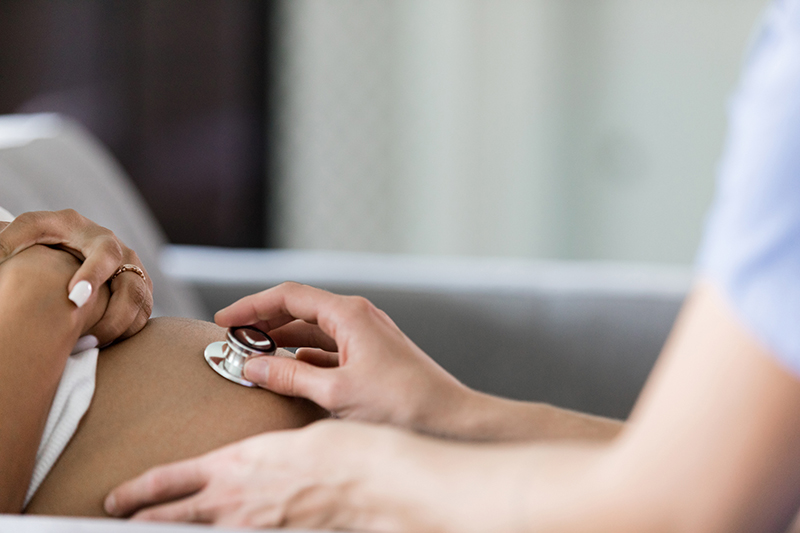 Pregnancy and childbirth are killing Black women at an alarming rate.
Nationally, Black women are 243 percent more likely to die from pregnancy or childbirth-related causes than white women. In Virginia, it's worse. Black women are 300 percent more likely to die in childbirth than white women, reports the Virginia Department of Health.
These statistics have motivated a number of EVMS groups, including the newly created Center for Maternal and Child Health Equity and Advocacy, to intensify efforts to address maternal health disparities.
"The goal of the center is to eliminate health disparities among mothers and children," says Lindsay Speros Robbins, MD, MPH, Director of the Center for Maternal and Child Health Equity and Advocacy, and Assistant Professor of Maternal-Fetal Medicine. "We will study outcomes at the regional and state level to better understand where and why disparities exist."
Dr. Robbins says they will then combine that research with input from women and families in the community to improve policies and guidelines, to develop quality improvement projects, and to ultimately improve short-term and long-term outcomes for mothers and children. "We look forward to working with partners and families in the community to achieve health equity."
Access to healthcare also contributes to this disturbing trend. "Many of the women I see with elevated blood pressure that was undiagnosed don't have a primary-care provider," says Lea Porche, MD, Assistant Professor of Obstetrics and Gynecology. "Usually, they aren't saying it's not important. It's an access issue." She says seeing a doctor can be difficult for women who don't have adequate health insurance, transportation, childcare or work coverage.
Improving access to care is a goal of the Loving Steps program, which focuses on supporting the health of mothers and babies. Loving Steps also works closely with Minus 9 to 5, a community resource that aligns and coordinates care for children from pregnancy to age 5. Both programs are grant-funded and based at EVMS.
"About 15,000 babies are born in our region each year across eight different hospitals," says Jane Glascow, PhD, Executive Director of EVMS Minus 9 to 5 and Assistant Professor of Pediatrics. "But not everyone gets the same opportunities. For example, are all patients screened to connect them with resources, not just those who visibly appear to be in need?"
EVMS clinicians also collaborate with area hospitals to help standardize the quality of healthcare across the region.
Ensuring that conversations about racism and health disparity take place at EVMS is the responsibility of Mekbib Gemeda, Vice President of Diversity and Inclusion and Assistant Professor in the School of Health Professions.
A major focus of Mr. Gemeda's is addressing implicit bias, the act of making judgments based on a personal view of the world. "Implicit bias defines how we act and behave," he says, "even when we're consciously trying to be equitable. Everybody has it, whether you're an under-represented minority or a white male."
To combat implicit bias, all EVMS students, faculty and staff undergo training. "During workshops," he says, "you can see when people recognize implicit bias: They say things like, 'Wow, I didn't think of that,' and it's like a light bulb going off."
That training is only part of the solution. "As an educational institution," Mr. Gemeda says, "we integrate health disparities into what students learn in both clinical and classroom areas."
EVMS students also learn about maternal health through the school's community-engaged learning initiative, Mothers and Baby Mermaids. Each student is assigned to a mother on Medicaid, who agreed in advance to have a student help her navigate pregnancy and the healthcare system.
Mothers and Baby Mermaids is led by Gloria Too, MD, Assistant Professor of Obstetrics and Gynecology. Not only do her students get clinical OB-GYN experience and partner with women in their pregnancies, she says, but they also learn what patients on Medicaid go through.
"Even experienced people find the system confusing," Dr. Too says.
Learn more about these resources on EVMS Pulse.