Drs. Dobrian, Perkins-Holtsclaw appointed to new leadership roles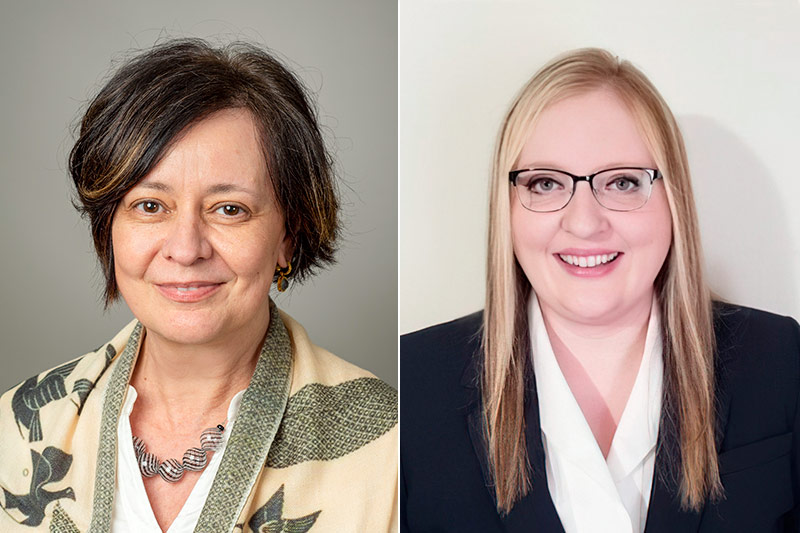 Alfred Abuhamad, MD, President and Provost and Dean of the School of Medicine, has made two key leadership changes as part of a realignment of Faculty Affairs and Institutional Effectiveness.
Anca Dobrian, PhD, has been named Interim Vice-Dean for Faculty Affairs and Professional Development (FA&PD) and will oversee FA&PD, Institutional Wellness, Growth and Retention and Continuing Medical Education (CME). Kala Perkins-Holtsclaw, EdD, is now Vice Dean of Strategic Planning and Institutional Effectiveness and will oversee Strategic Planning, Business Intelligence/Analytics and the Library. She will also continue to expand her role in accreditation activities.
"Drs. Dobrian and Perkins-Holtsclaw are exceptional leaders with a demonstrated commitment to excellence,"Dr. Abuhamad said in announcing the appointments to campus. "Between them, they will oversee many of the institution's vital functions. I am confident in their abilities and I look forward to their leadership."
Dr. Dobrian is a 20-year veteran of the EVMS basic science research faculty who also has held other important academic and administrative roles. A Professor of Physiological Sciences, Dr. Dobrian formerly was Assistant Vice-Provost of Growth and Retention and Director of the Biomedical Sciences Graduate Programs.
"I will strive to provide servant leadership by creating an environment in which all faculty feel valued and rewarded for their efforts and that they are included in decision-making, whether strategic or operational," Dr. Dobrian says. "To maintain our extraordinary faculty talent and be able to recruit and retain competitive faculty, we need to have the appropriate programing in place so individuals can fulfill their goals in alignment with institutional goals. I believe in transparency and clear communication of the vision, expectations and to providing the tools for a clear path to success.
Dr. Dobrian has developed curricula across graduate and medical education and has extensive experience mentoring medical students, graduate students and fellows. She has a long-demonstrated commitment to promote diversity and inclusion. In addition to her educational responsibilities, she is a talented scientist. Her research focus on obesity and co-morbidities has been funded by the National Institutes of Health, American Heart Association, Department of Defense and pharmaceutical industry.
She is a Master Educator in the EVMS Fine Academy of Educators. She represented EVMS on the Council of Faculty and Academic Societies of the AAMC since 2017 and is an appointed member of the Graduate Research Education and Teaching group of AAMC. Dr. Dobrian is part of the EVMS team funded by the ChangeMedEd consortium of the AMA to integrate social determinants of health into the medical curriculum.
She holds a chemical engineering degree from the Polytechnic Institute in Bucharest and a PhD in cell and molecular biology from the Romanian Academy of Sciences, Institute of Cellular Biology and Pathology "Nicolae Simionescu." She completed a postdoctoral fellowship in vascular physiology from EVMS. Dr. Dobrian has been a Fellow of American Heart Association since 2006.
Dr. Perkins-Holtsclaw, EdD, is currently Assistant Vice Provost, Strategic Planning & Institutional Effectiveness. She joined EVMS in 2021.
"I am excited and honored to have the opportunity to serve EVMS as the inaugural Vice Dean for Strategic Planning and Institutional Effectiveness," she says. "Creating this role exemplifies the commitment of institutional executive leadership toward continuous quality improvement. My goals will focus on expanding the data-driven culture at EVMS and advancing strategic planning and institutional effectiveness initiatives with the vision of becoming a model of excellence in the fields of accreditation, strategic planning, institutional research, and outcomes assessment."
Dr. Perkins-Holtsclaw is an enthusiastic higher education administrator with expertise in strategic planning, continuous improvement, institutional effectiveness and accreditation. She is passionate about continuous improvement in higher education based on data-driven decision making.
She has served the higher education community for over 15 years in a combination of administrative and faculty roles. She has also served both nationally and internationally as an accreditation and continuous quality improvement consultant.
Dr. Perkins-Holtsclaw's visionary and innovative institutional research practices were acknowledged in 2021 by being awarded the Southern Association for Institutional Research (SAIR) Most Innovative Practice Award. She was selected as a 2022 National Center for Educational Statistics (NCES) Data Institute fellow. She holds a Doctor of Education from East Tennessee State University, a Master of Education from King University in Bristol, Tenn., and a Master Mathematics from the University of Wollongong, New South Wales, Australia.