David Propert was respected educator, leader in research safety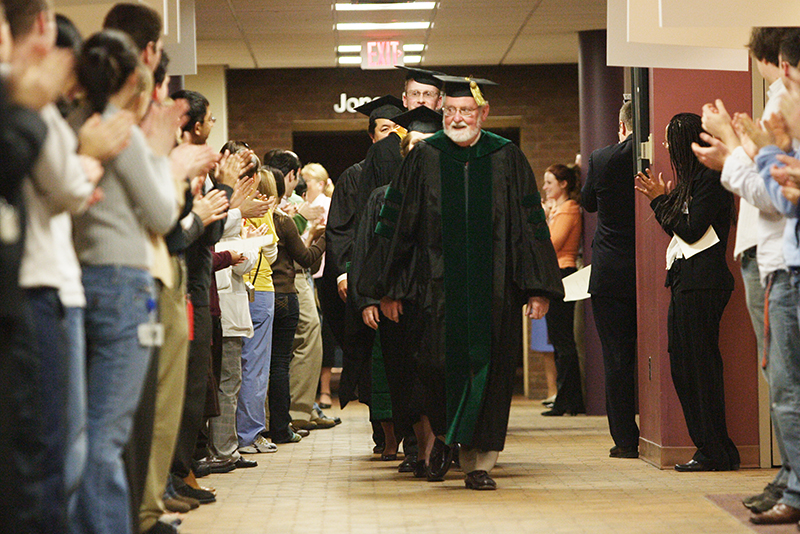 David Propert, MD, an active member of the EVMS faculty for more than 30 years, has died. He was 88.
A cardiologist, Dr. Propert joined the EVMS faculty in 1981 as Associate Dean for Medical Affairs. In 1992 he moved to the VA Medical Center in Hampton as Chief of the Medical Service, while continuing to teach at EVMS. He retired from the practice of medicine in 2004, but continued to teach until 2014. (Pictured above, Dr. Propert leads an academic procession as one of the faculty marshals.)
Thomas Manser, MD, Oscar E. Edwards Distinguished Professor of Internal Medicine, worked alongside Dr. Propert.
"Dave was an 'old time' non-invasive cardiologist who was a great clinician and educator in addition to being a very fine person," Dr. Manser says.
Gerald Pepe, PhD, Professor and Chair of Physiological Sciences and a former Dean of the School of Medicine, says Dr. Propert played an integral role in medical education and was a wonderful role model for generations of physicians.
"He was an avid educator, always aware of student needs and very integral to the education of our medical students and residents," Dr. Pepe says. "He was dedicated and committed to excellence and always exhibited the highest standard of professionalism. I feel very fortunate to have known and worked with Dave — a gentleman."
Marissa Galicia-Castillo, MD, also recalls Dr. Propert as a passionate educator always eager to help.
"I will always remember the first time, (as a second-year resident) I pushed thrombolytics in a patient at the VA Medical Center with his guidance on the phone in the middle of the night," says Dr. Galicia-Castillo. "It was very scary time for me, but he helped me get that patient to the morning and do well. I certainly learned so much from him."
Dr. Propert also was active with the institutional review boards (IRB), which review research for ethical principles. Betsy Connor, Director of the EVMS Human Subjects' Protection Program, credits Dr. Propert as an important influence on her career.
"Dr. Propert was the first IRB chair I worked with when I started with EVMS in the early 1990's and he taught me a lot of what I know," Ms. Connor says. " . . . He was committed to doing things the right way. His desire to ensure that human subjects were informed and protected never waivered in all the years he served on the Boards."
Even after he retired, he continued to serve on the Boards and arranged his personal plans around meetings.
"He would often come into office a couple of times a week to review matters, grab a cup of coffee and stay to discuss how we should handle some of the more unusual or difficult matters," she recalls. "It was important to him that we get things right."
William Wasilenko, PhD, Vice Dean for Research, praised Dr Propert as a "valuable, judicious and helpful" co-chair of the IRB.
"He always had the best interests of faculty research and institutional compliance at heart in his deliberations," Dr. Wasilenko says. "He set a bar that will be a challenge to surpass."
Dr. Propert is survived by his wife of 41 years, Ann Fritz Bennett, and a host of family.