Businessman and philanthropist Richard Waitzer dies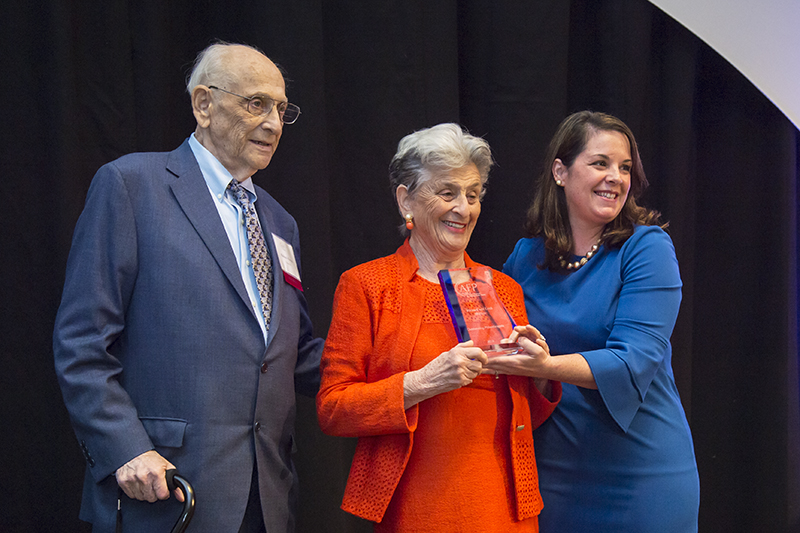 Philanthropist and long-time EVMS supporter Richard M. Waitzer, died Saturday, Jan. 12, at the age of 86.

He was an astute businessman whose philanthropy transformed not only EVMS but also Hampton Roads as a whole, said Richard V. Homan, MD, President and Provost, Dean of the School of Medicine.
"His legacy of charitable, civic and business contributions has continuously focused on improving the quality of life in the Hampton Roads community," Dr. Homan wrote in a message to campus.

Mr. Waitzer and his wife, Leah, have been loyal supporters of EVMS. In 2012, the Waitzers established the Murray Waitzer Endowed Chair for Diabetes Research in memory of Mr. Waitzer's father, Murray Waitzer, who had to take daily insulin doses to control his Type 1 diabetes. The gift continues to fund important research to help stem the rising tide of diabetes in Hampton Roads.
In November 2018, the Waitzers gave the largest family gift in the school's history. The new education and administration building now under construction on campus will carry the Waitzer name and will serve as a tribute to Mr. Waitzer's vision and commitment to a healthier community,
Mr. Waitzer was educated in Norfolk Public Schools, graduating from Maury High School in 1950. He graduated from Carnegie Mellon University after only three years with a Bachelor of Science degree in physics.
After graduation, he joined the family business, Murray Wholesale Drug Corporation, managing it from the late 1950s until its sale in 1971. In 1966, with no experience, he started a hugely successful career developing commercial and residential real estate. His initial project was the first office building in Virginia Beach devoted entirely to healthcare professionals, and he subsequently developed all kinds of commercial and residential real estate over 50 years.
"He was an ambitious, talented, and highly respected entrepreneur who was wildly successful in three disparate careers working until his last week," according to his obituary.
He was an avid collector of art glass and modern American art. His paintings have been featured in some of the most prestigious museums in the world. Drawn to entrepreneurship, he was a mentor to many and helped several businesses. He never wanted recognition and preferred to remain behind the scenes rather than assume leadership roles in the many organizations he supported.
Mr. Waitzer chaired the Virginia Symphony Foundation Board and Virginia Symphony Board and served on the Board of the Chrysler Museum of Art. He received many awards, including the Governor's Housing Achievement Award and, with Leah, the 2015 Humanitarian Award from the Virginia Center for Inclusive Communities and the 2018 Philanthropist of the Year from the Association of Fundraising Professionals, Hampton Roads chapter.
He was extraordinarily generous. According to his obituary, "Some of his charitable gifts are known only by his sons, including college and private-school tuition for deserving students who miraculously received scholarships without ever applying."
He also gave transformative gifts to the Virginia Symphony, where he had special affection for its musicians. He funded the Waitzer Community Gallery at the Chrysler Museum of Art, in addition to many other projects there. His philanthropy at Norfolk Academy included funding annual awards for teaching excellence and numerous facilities.
Mr. Waitzer is survived by his wife, Leah, sons Brad (a member of the EVMS Foundation Board of Trustees), Eddie and Scott, three grandchildren and numerous nieces and nephews.
The family will receive friends Tuesday and Wednesday, from 6 to 9 p.m. at 334 South Botetourt Court in Norfolk. A celebration of life will be held Tuesday, Jan. 15, at 1 p.m. at Ohef Sholom Temple, 530 Raleigh Avenue, Norfolk.

In lieu of flowers, the family requests donations be made to the EVMS Foundation and Norfolk Academy. Online condolences may be made at www.hdoliver.com.