Association of Women Surgeons recognizes Jessica Burgess, MD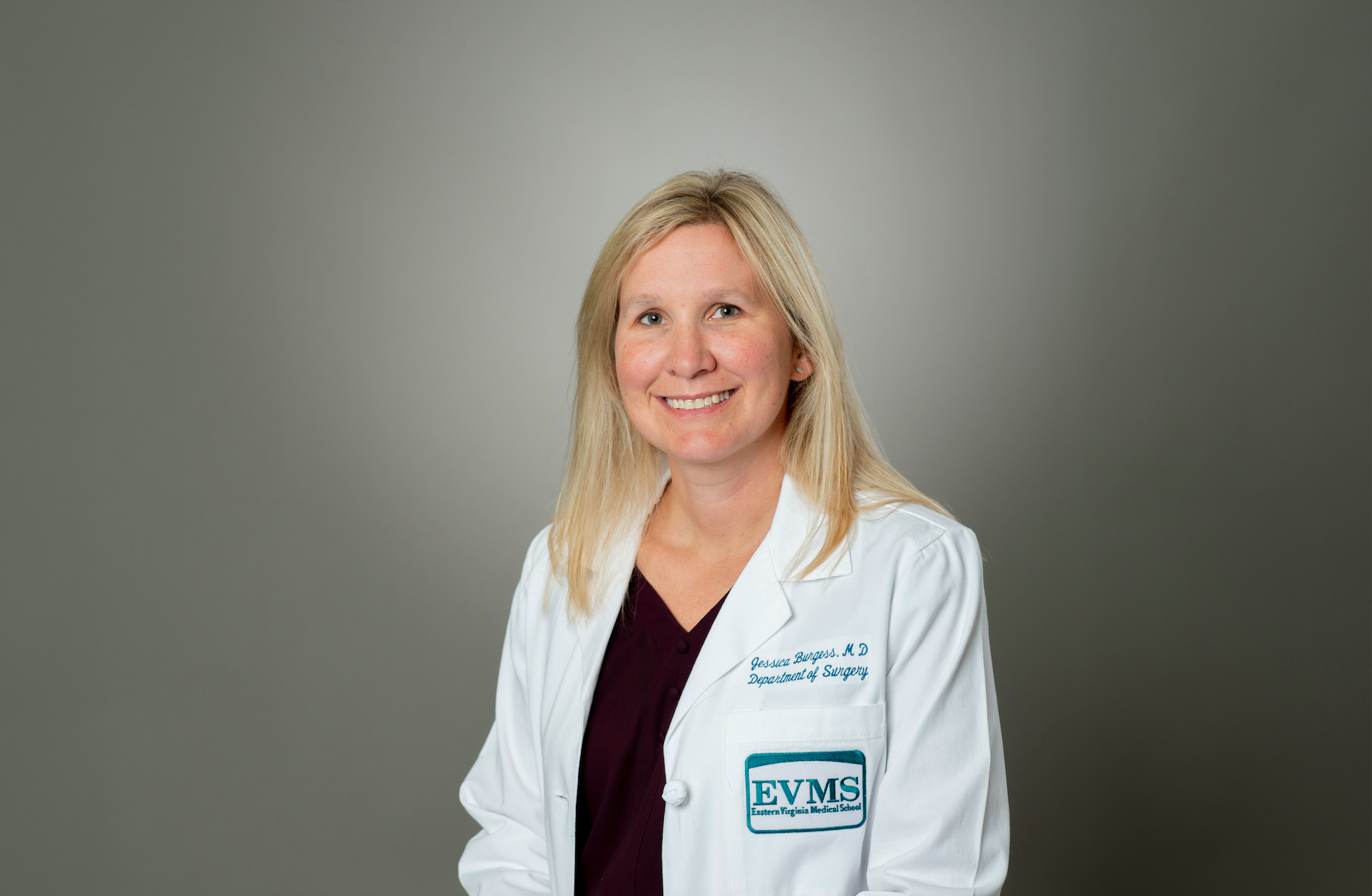 Jessica Burgess, MD (MD '09), Associate Professor of Surgery, recently was named to the Association of Women Surgeons' "40 Under 40" list. The group compiled the list from nominations sent in from around the country in an effort to recognize future leaders in the field.
The honor was announced in early September to coincide with Women in Medicine Month.
After graduating from EVMS 2009, Dr. Burgess stayed at the school for her General Surgery residency and completed her Surgical Critical Care Fellowship in the middle of residency. She joined the EVMS faculty in 2015 and was promoted to Associate Professor in 2020. She is currently the Program Director for the Surgical Critical Care Fellowship and says she credits much of her success to the inclusive environment at EVMS and the mentors she's encountered throughout her education and career.
"I've been lucky to have so many mentors here at EVMS," Dr. Burgess says. "EVMS has done a great job of putting formal mentorship programs into place and those are incredibly valuable, but in my own personal experience, many of the most lasting mentor relationships in my career have happened pretty organically — stopping by someone's office to talk, having a coffee together."
When talking today to younger surgeons and medical students, Dr. Burgess often reflects on some of the best advice she received earlier in her career.
"Say yes to every opportunity," she says. "When you are just starting out, you can be impatient. You want to do everything at once. But just keep saying yes and, little by little, you build up your experience and you get where you need to be."
Another piece of advice she values: Keep the patients front of mind, no matter the situation.
"It all comes down to the patients," she says. "You have to keep them in the forefront and treat them like you would want someone to treat you or your family members."
As for the challenges of being a surgeon, Dr. Burgess says the payoffs offset the long hours and professional demands.
"Being a surgeon is a calling," she says. "For me, every step of the journey has been a great experience."