Eric Dobratz, MD
Dr. Eric Dobratz is the Director of the Division of Facial Plastic and Reconstructive Surgery in EVMS Otolaryngology Head and Neck Surgery. He is also Board-certified in facial plastic surgery. Dr. Dobratz has a highly specialized practice where he focuses exclusively on plastic surgery of the face, head and neck. He has double board certifications from the American Board of Otolaryngology and the American Board of Facial Plastic and Reconstructive Surgery.
I decided facial plastic surgery was the specialty I wanted to practice in very early in medical school. During first year anatomy class, the face and neck anatomy was, in my opinion, the most intricate and interesting area to study. I sought out the opportunity to shadow facial plastic surgeons early in medical school and was intrigued by the fact this craft required not only exacting surgical skill, but also a creative and artistic challenge. I made the decision to pursue facial plastic surgery my first year of medical school and never looked back because I have the ability to help make such a positive impact on my patients' lives. Every day presents a new challenge and I remain thankful every day for this opportunity.
One of the things I enjoy most about practicing as a facial plastic surgeon are the times I am able to remove a patient's dressing, hand them a mirror and watch the excitement on their face when they see the changes made by surgery. I am thrilled to know I am able to make immediate and life altering changes for my patients. Whether I am performing surgery to reconstruct a cleft lip on a young baby or performing a cosmetic surgery to change a facial feature that has bothered a patient for some time, I know the outcome will help increase their self-confidence and self-esteem for years to come.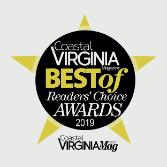 View Bio
View CV
---
Secondary Specialty
Clinical Interests and Skills
Plastic and reconstructive surgery of the face and neck
Cosmetic facial rejuvenation - face lift, blepharoplasty(eyelids), brow lift, injectables
Otoplasty
Cosmetic and functional rhinoplasty (nose surgery)
Reconstruction of soft tissue defects following resection of skin cancer
Reconstruction of congenital deformities, including cleft lip/palate and microtia (ear deformity)
Rehabilitation after facial paralysis
Post-trauma facial reconstruction
Research Interests
Medical Education
Eastern Virginia Medical School
Norfolk, Virginia
Residency
University of Virginia
Charlottesville, Virginia
Fellowship
University of Minnesota (Facial Plastic and Reconstructive Surgery)
Minneapolis, MN
Board Certification
American Board of Otolaryngology
American Board of Facial Plastic and Reconstructive Surgery
Additional Certifications
Affiliation
---
Clinical Practice Locations
600 Gresham Drive
Suite 1100
River Pavilion
Norfolk
757.388.6200