Geriatric Medicine Fellowship
Deliver compassionate, evidence-based, person-centered care to older adults as a graduate of The Lillian & Gideon Welles Grime Fellowship in Geriatrics.
Where you'll train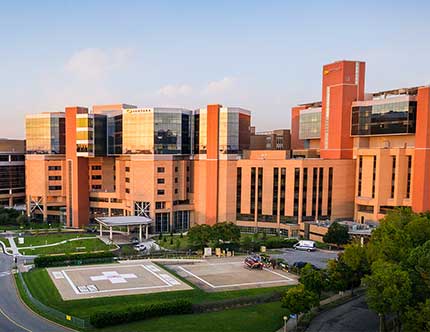 Sentara Norfolk General Hospital
Sentara Norfolk General Hospital, the primary teaching hospital for EVMS, is home to the area's only Level I trauma center and burn trauma unit, the region's premier heart program. Designated by U.S. News and World Report as "high-performing" in Geriatrics, the medical center's active cardiology, cardiac rehabilitation, sleep medicine, epilepsy and oncology programs, as well as its heart, lung, kidney and pancreas transplant programs, make Sentara Norfolk General an ideal learning environment for geriatric medicine fellows. Fellows rotate in palliative medicine, neurology, physical medicine and rehabilitation, geriatric psychiatry and the inpatient medicine and trauma team consultation service at Sentara Norfolk General.
Berger-Goldrich Home at Beth Sholom Village
Beth Sholom Village's Berger-Goldrich Home is a 120-bed post-acute care facility offering skilled nursing, rehabilitation, long-term care, chronic and palliative care and special care in the memory support unit. The facility provides diverse exposure to general rehabilitation for amputees and post-hospitalized patients following strokes and neck, back, hip and knee surgeries and for patients with neurologic and musculoskeletal disorders. Fellows learn to manage patients at all levels of care at Beth Sholom and to understand the abilities and limitations of each level. Through their longitudinal experience, fellows develop and demonstrate expertise in coordinating long-term primary medical care for geriatric patients.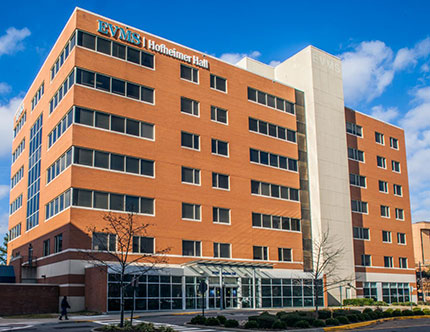 EVMS Hofheimer Hall
EVMS' Hofheimer Hall, located across the street from Sentara Norfolk General Hospital, is home to EVMS' Glennan Center for Geriatrics and Gerontology. Trainees attend weekly fellows' conferences in the Glennan Center, have a longitudinal continuity clinic in the Glennan Center's Geriatric Assessment Clinic and have a clinical rotation in the Memory Consultation Clinic.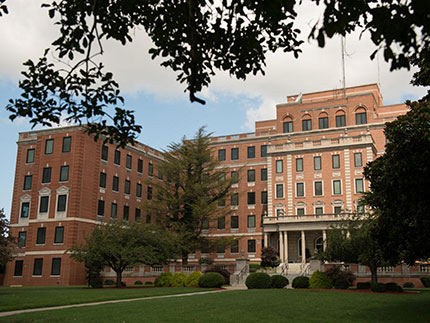 Hampton Veterans Affairs Medical Center
The Hampton Veterans Affairs Medical Center has 142 acute beds in medicine, surgery, psychiatry and neurology, 234 extended care beds in intermediate medicine, palliative care, spinal cord injury and nursing home care and a 294-bed rehabilitative residential care domiciliary for a total of 670 operating beds. Fellows treat patients in the geriatric psychiatry service, skilled nursing facility, Geriatric Primary Care Clinic, which includes memory consultations, and Home-Based Primary Care service, where fellows assess patients' home care needs.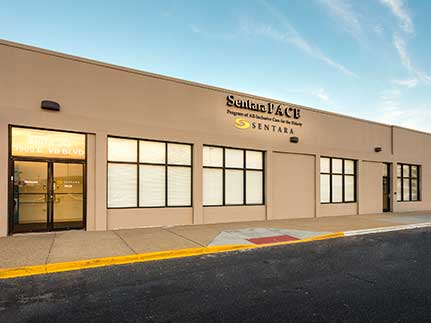 Sentara PACE-Norfolk Center
Sentara's Program of All-Inclusive Care for the Elderly (PACE) is a comprehensive healthcare and supportive services program for frail seniors who wish to remain in their homes and community. PACE provides an interdisciplinary adult day service to nursing-home eligible individuals. Fellows rotate providing medical care, evaluating new and established PACE participants, participating and presenting at Interdisciplinary Team meetings, collaborating with the treatment team to establish an assessment and plan of care, participating in new patient admissions, making home visits, attending family care planning meetings and participating in daily treatment rounds.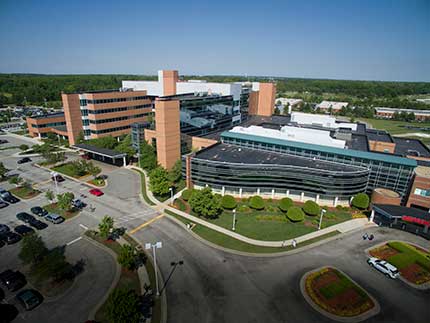 Sentara CarePlex Hampton
Sentara CarePlex Hospital is a 224-bed acute care hospital and Certified Primary Stroke Center with an eICU and an Acute Care for the Elderly (ACE) unit model of care for the proactive identification and management of geriatric syndromes. The hospital offers advanced surgical programs, emergency cardiac intervention and maternity care services. Fellows and interdisciplinary teams ensure care plans align with patients' functional, cognitive and psychosocial status and goals. The ACE unit focuses on communication, patient-centered vs. disease-centered care and care transition planning. Fellows also rotate on the hospital's palliative medicine consultation service.
The Memory Center
The Memory Center is a licensed assisted living community providing care for individuals with substantial health problems, cognitive deficits and behavioral and psychological symptoms of dementia. The daily program is designed to meet the challenging conditions of an aging brain with a caring, interactive community that supports not only the residents but also their families. The Memory Center uses scientific, nutritional and interactive therapies in the daily structured activities, which are designed to provide meaningful purpose to those with memory loss. Fellows rotate in The Memory Center during the geriatric psychiatry block and cover the facility during a week of pager call each month.
Previous
Next
At EVMS, we know life happens, and we want you to be covered when it does. That's why we offer competitive benefits packages for our residents and fellows.