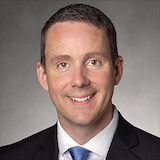 Joshua Sill, MD, FACP, FCC
Pulmonary & Critical Care Medicine Interim Division Chief
EVMS Pulmonary and Critical Care Medicine is dedicated to providing exceptional patient care and advanced education and research for the diagnosis and treatment of lung diseases and critical illnesses.
We offer advanced subspecialty training for future pulmonologists and critical care providers in our ACGME-accredited three-year fellowship program. Fellows can further their skills in pulmonary disease and critical care medicine and choose to focus on the academic, clinical or research components of the specialty.
Our renowned physicians provide comprehensive inpatient and diagnostic and therapeutic services for a range of disorders of the lungs and respiratory system. We have programs in asthma, emphysema and interstitial lung disease and manage critical illness for patients in the general and neurosurgical ICU of area hospitals.
Research is a vital component of our outstanding patient care. Our investigators also conduct clinical research studies on:
Nutrition and metabolic management in critical care patients
Hemodynamic monitoring in the ICU
Critical care ultrasound
Sleep and noise in the ICU
Pulmonary hypertension
Lung innate immunity and interaction with bacterial pathogens