With more than 40 community faculty, EVMS Cardiology works closely with full-time Internal Medicine faculty, students and residents to provide a breadth and depth of first-hand, practical cardiology experience.
Internal Medicine residents rotate at several facilities to gain exposure to common and complex cardiac conditions.
Residents learn about everyday cardiac problems while developing their critical reasoning skills under the direction of the division chief, Dr. Robert C. Bernstein.
Nationally ranked in Cardiology and Heart Surgery by U.S. News & World Report, Sentara Norfolk General Hospital employs nationally recognized experts who provide trainees with deep exposure to complex heart conditions and tertiary care, such as cardiac transplantation and transcatheter aortic valve replacement.
Residents rotate with EVMS Cardiology's experts at the Hampton Veterans Affairs Medical Center, as well as other area hospitals and outpatient facilities through electives. Our cardiology rotations offer direct experience, providing an optimal environment for learning both the theory and the practice of cardiology.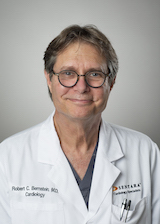 Dr. Robert C. Bernstein, Division Chief