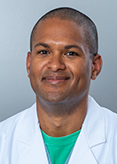 Medical School: University of Virginia
Interests in medicine: Urgent care and hospital medicine. I'm joining the Navy Reserves and am also interested in learning military-specific medicine.
Hobbies: My wife and I have two boys, Trigg, 4, and Robbie, 9 months, so they are my biggest hobby. I also enjoy gardening, cycling and listening to the Grateful Dead.