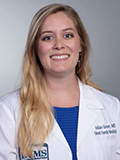 Medical School: University of South Carolina School of Medicine- Columbia

Hometown: Bishopville, MD
Why Ghent Family Medicine? Ghent appealed to me because it is a large academic center where I knew I would get exposed to a large variety of patients, and I could tell from my interview that I would receive excellent clinical training from their dedicated faculty and staff.
Hobbies/Interests: Playing with my dog, dancing, live music, and spending time with friends and family.
Future Goals: I hope to join my father's family practice as well as teach future students. I also plan to incorporate point-of-care ultrasound in my daily practice.
Special Areas of Interest: Point-of-care ultrasound, women's health, teaching