‌

‌

‌

‌

‌
Creating a 'Video-Short' for a Flipped Learning Experience (Dr. Wasilenko)
Dr. Wasilenko was trying to figure out a new way to effectively teach a particularly complex idea in Microbiology. As he thought about it, he thought it might be a good instructional approach to develop a flipped learning experience, but was unsure exactly how to do it. He called Julie Bridges and she and Don Robison (both instructional designers whose job is to help instructors figure this stuff out) worked with Dr. Wasilenko to design the experience.
One part of the approach was to develop a short video on a particularly complex cell process. The students would study prior to class, and watch the short video prior to class. Then, the classroom session could be dedicated to team-based case study work.
Making the short video… After talking with Dr. Wasilenko about the plan, Julie encouraged him to think about making a video where he diagrammed the cell process exactly as he had diagrammed it for her in his explanation. She gave him the Surface computing device that we have acquired for faculty use and trained him in the use of Camtasia. This training took about 20 minutes. Dr. Wasilenko checked out the Surface device and took it to his office. Essentially, what he did was this: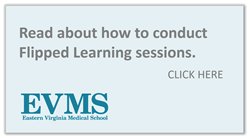 ‌
He used a clear drawing of the cells prior to the process he was teaching.
He created a simple PowerPoint presentation with that drawing placed near the top of the slide.
Then, using Camtasia's capture function, he literally explained the process as he drew it out on the PowerPoint slide.
The result was a short video (just a couple of minutes long) that clearly demonstrated and explained a complex cell process.
He posted the link to the video in Blackboard and required students to see that and the prior year's classroom video prior to class.
Again, the class was then dedicated to team-based cases.
What's the value of this approach?
Dr. Wasilenko made good use of the instructional designers for the MD Program! Julie and Don specialize in creating engaging and effective learning experiences, and want to work with you to accomplish your goals.
This was a good example of flipped learning. Dr. Wasilenko walked away from this experience with many lessons learned. He would no-doubt do it differently next time, but, what he did was very effective. The class time was spent in application and synthesis of learning.
The short video on the complex process was genius. Using a Khan Academy style video, Dr. Wasilenko very clearly addressed a complex concept. Students can now replay that over and over at their leisure. This idea of hitting complex concepts with short (2-5 minute) videos is a great one.
It made good use of equipment we have for your use. That Surface device with Camtasia on it is easy to use and is for you. Please see Julie or Don if you are interested in giving this approach a try.