‌

‌

‌

‌

‌
Team-Based/Case-Based Learning (Dr. Knapp)
During an Ultrasound training session, Dr. Knapp presented several ultrasound recordings, described the patient history briefly, and then used the pre-existing student teams to discuss what they were seeing and develop differential diagnoses. He presented 4 cases, and for each one had three questions for the teams. Julie Bridges worked with Dr. Knapp prior to the class session to develop Google Docs forms so that each team could log in and enter their short answers to each question.
After each question, Dr. Knapp presented the student team answers side-by-side in a spreadsheet and addressed selected ones, pointing out the strengths and weaknesses of specific answers. In addition, he had a few individual groups describe their logic as he addressed their answers.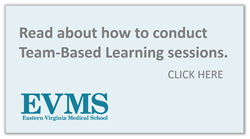 ‌
One interesting thing he did—almost unconsciously it seemed—was refer back to actual emergency department cases that were similar to the ones being discussed. After the classroom experience, six or seven students stayed behind to get more detailed information from him about the cases he described. One student said, "It is so valuable to hear about how you apply what we are learning here! I would love to sit and talk with MD's for hours about these things."
What's the value of this approach? First, we "win" any time you get students actually constructing answers to clinical-logic problems… It is what they will be doing in practice as a physician. Second, when you get students interacting over problems, it not only gets them practicing clinical reasoning, but it creates a sort of 'intellectual abrasion' and the result is a more firmly rooted memory. In other words, the chances of recall are improved by the mere act of hashing out a problem with others.
Showing the other groups' answers accomplished two things: it reinforces the idea that this process is complex, and it also gets the student in the habit of seeing and then ruling out many options. This is invaluable in actual practice. By Dr. Knapp providing feedback on the majority of responses, errors in logic were directly addressed.
We tap into the strength of aspiration too little… Our MD students want to be physicians. It is a significant motivator for them. In our case, it is not just the rewards of being an MD that draws them (that is, helping people or prestige), it is the forming of the identity of "physician." Erikson said this search for identity in adults in their younger 20's is a primary motivator. For those who chose to be a physician, we can count on that forming-identity motivator as being important. When Dr. Knapp off-handedly told "sea-stories" from the emergency department, he was speaking right into our students' motivational hotspot. We could overdo it, but we are nowhere close to that now. Whenever we reasonably can, it helps to tie our course matter into the work of a physician.