Urology Residency Curriculum
The residency is designed around a single service run by the chief resident(s) at Sentara Norfolk General Hospital (SNGH) and Children's Hospital of The King's Daughters (CHKD). Residents round on inpatient consult and surgical patients at the two hospitals in the morning and meet with the chief resident(s) at 7 a.m. Assignments are made daily to cover the spectrum of procedures scheduled at the various hospitals and are made to match the resident's experience with the complexity of the case, i.e., junior residents cover minor open cases and basic endoscopy, mid-level residents cover advanced endoscopic cases and some major cases and senior residents cover major open and laparoscopy cases.
At various times in the year, junior residents spend several weeks rotating with nephrologists, diagnostic radiologists and radiation oncologists. Residents in the first two years rotate through Portsmouth Naval Hospital clinics. The schedule often permits residents to travel to surrounding affiliated hospitals to gain additional index case experience. Our single-service design has some advantages over strict "rotations" in that residents have flexibility in their daily assignments so they can balance their case logs and their personal interests, especially in their chief year.
Outpatient urology takes place at the Sentara Ambulatory Care Clinic each Thursday morning for adult care, and Monday afternoons at CHKD for pediatric urology. We recently established an ambulatory care/clinic (AC/C) rotation for the residents. This is a three-month period where the resident spends the bulk of the working day in one of the outpatient urology offices. This rotation provides much-needed educational experience in the outpatient setting.
The outpatient experiences were developed to enhance the half-day clinic at SNGH (1/2 day per week) and the limited outpatient experiences at the Naval Medical Center, Portsmouth. These two clinics have educational limitations in terms of the populations being served, which is enhanced by the addition of the office clinics. Once a month, residents will work with Dr. Brugh which is a day dedicated to evaluate complex infertility cases. Once a week, residents rotate at Lake Taylor Hospital to evaluate urologic issues with long-term care, spinal-cord care and geriatrics.
The teaching curriculum has three weekly meetings:
Monday morning basic science: Residents take turns reviewing topics from embryology, nephrology, physiology, anatomy and others.
Monday afternoon X-ray: Residents present interesting cases with X-rays with staff radiologists and urologists are in attendance. On the first Monday of the month, the conference becomes a multidisciplinary uro-oncology conference, in which urology, radiation oncology, diagnostic urology, medical oncology and pathology meet to discuss complex oncology cases.
Thursday morning didactic: The chief resident organizes this series, which varies from didactic attending lectures, visiting professor lectures and morbidity and mortality conference to pathology case review.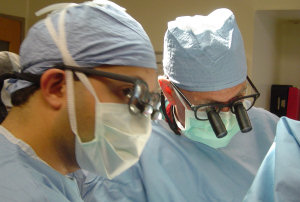 The teaching curriculum has two journal clubs:
White journal club. Residents meet monthly to review important articles in the Journal of Urology.
Topic-oriented journal club. Once per month from September through May, a staff member or invited guest organizes topic- oriented journal club to focus on 8-10 important articles on topics such as oncology, BPH, infertility, incontinence, etc.
We also have a visiting professor at least three times a year, i.e., January, June and September.