Arfa Ahmad, MD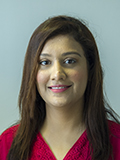 Resident
Internal Medicine
Hofheimer Hall
Hometown: Lahore, Pakistan
Why EVMS?: During my interview, I had a great conversation with program leadership and had the gut feeling to come to EVMS. The residents seemed very happy and content and spoke very highly of the program. All these factors led me to be here and one year later my husband also matched here making EVMS more of a home.
Hobbies: Cooking, binge watching Netflix and Youtube, shopping, sleeping, and hanging out with friends.
Areas of Interest: Hematology/Oncology, Hospital Medicine, and Nephrology
Future Goals: I'm thinking about doing academic medicine. It's amazing to train new and fresh minds and practice medicine with them.