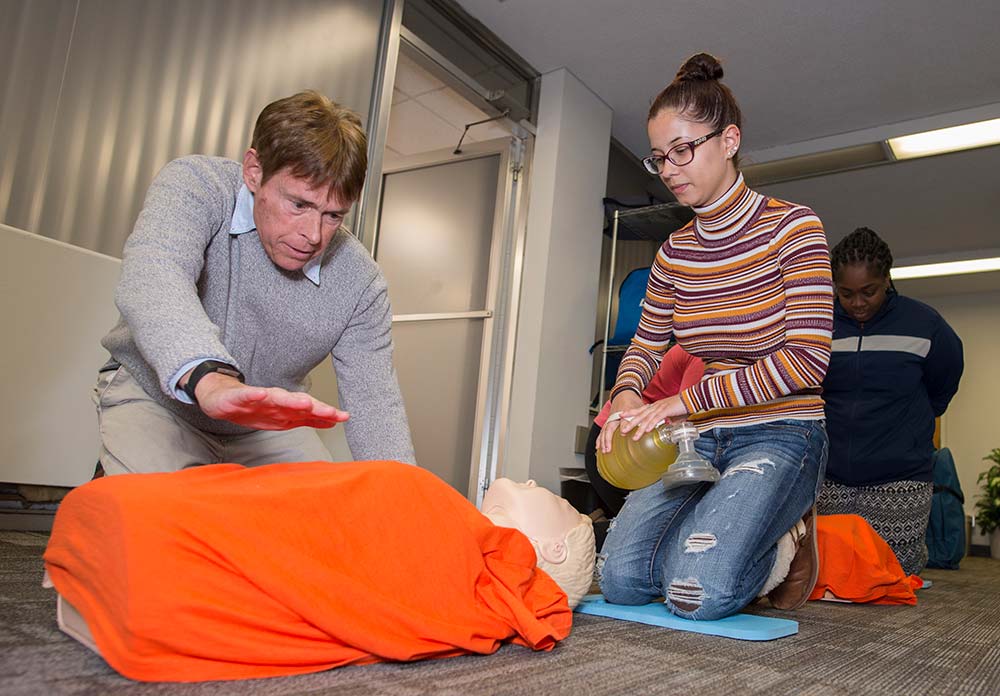 "They have to know it before they walk out that door"
In 2016, EVMS-based center trained more than 17,000 people in life support
Last December, Jacob Morton and Ted Locascio of W.F. Magann Corp. in Portsmouth didn't hesitate when a coworker went into cardiac arrest — the two men performed CPR and used an automated external defibrillator on their colleague before paramedics arrived.
Mr. Morton and Mr. Locascio knew exactly what to do because of the training they received at Tidewater Center for Life Support (TCLS), an EVMS initiative that offers courses in lifesaving techniques to healthcare providers and the public.
"If our employee would have been driving or walking in a park, more than likely he would be not be here today," says John Wilda, Safety Director at W.F. Magann Corp. For more than 10 years, Mr. Wilda has used TCLS to train employees in CPR and first aid because of the center's stellar reputation and the dedication and enthusiasm of the instructors.
Since its founding in 1981, TCLS has trained over half a million people and is one of the top American Heart Association training centers in the mid-Atlantic with more than 17,000 students completing a course in 2016.
"In the Tidewater area, we are surrounded by medical professionals, day-care providers and athletic programs," says Gordon Degges, Training Coordinator for the center. "Many of the people in our community need this type of training, and we offer it in a central location, as well as in affiliated training sites around Hampton Roads."
Deana Kilber, an instructor with TCLS for over 15 years, says many students tell her they chose a TCLS course over one offered in-house by their employers because of the value they see in the quality of the teaching.
"Here, they have to know it before they walk out that door," she says. "I teach with the assumption that I'm going to collapse in the parking lot on the way out, and I want every single one of my students to be able to do picture-perfect CPR on me."
In early summer, TCLS will transfer to EVMS's Sentara Center for Simulation and Immersive Learning (SCSIL). The move will expand the impact of the American Heart Association training provided by TCLS for decades. Andrew Cross, Instructor in the School of Health Professions, is coordinating the move for SCSIL. "We're looking forward to managing this community responsibility," he says. "It's in everyone's best interest."
Learn about all of the courses SCSIL offers.