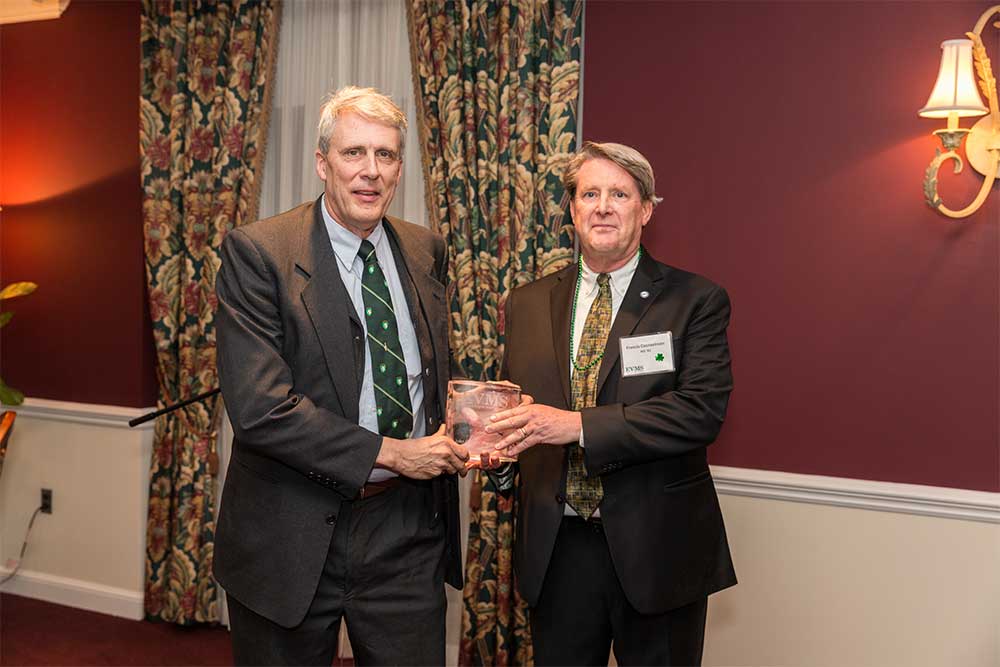 '83 alum receives EVMS Distinguished Alumni Service Award
John "Rob" Marsh, MD (MD '83), an alumnus who was once named the national Country Doctor of the Year and whose medical military service was a focus of the movie "Black Hawk Down," is this year's recipient of the EVMS Distinguished Alumni Service Award.
Created in 2015, the award recognizes alumni who carry on the EVMS tradition of giving back through dedication, support and service. Dr. Marsh was honored with the award at an alumni appreciation event held in March. Fellow EVMS classmate and friend, Francis Counselman, MD (MD '83, Emergency Medicine Residency '86) the EVMS Foundation Distinguished Professorship in Emergency Medicine and Professor of Emergency Medicine, presented Dr. Marsh with the award.
John "Rob" Marsh, MD, makes house calls and knows all of his patients' names, their family and their animals.
"He is an intricate part of the fabric of his community," Dr. Counselman says. "Rob and his practice of medicine epitomize what the founders of EVMS had in mind — practicing high-quality family medicine in a rural area of Virginia."
After EVMS, Dr. Marsh resumed his active-duty military career, serving in the Special Forces and Delta Force. He deployed several times, including a 1993 deployment to Mogadishu, Somalia, where he was injured while treating American soldiers wounded in an attack. He earned the Legion of Merit, two Bronze Stars, a Purple Heart, the Department of Defense Meritorious Service Medal and the Army Meritorious Service Medal. Today, he runs a primary-care practice in the town of Middlebrook, Va.
"There is no one else like him," says Mary Mannix, President and CEO of Augusta Health, who wrote a letter of support for Dr. Marsh's nomination.
"His dedication and service to his community and to his country are not only exemplary," she says, "they may be without equal."
Dr. Marsh's Shennandoah Valley practice has been described by many as the kind fondly remembered from 50 years ago. He makes house calls and knows all of his patients' names, their family and their animals. He often forgoes charging patients in difficult financial times and is available to his patients 24 hours a day. His office is located at a truck stop. He serves as a preceptor for medical students, provides medical care for the residents of the Blue Ridge Christian Home and serves as a volunteer firefighter.
"All of us who live and work with Dr. Marsh speak of his intelligence, his energy, his humility and his ability to get through life on very little sleep," Ms. Mannix says. "We are in awe of him."