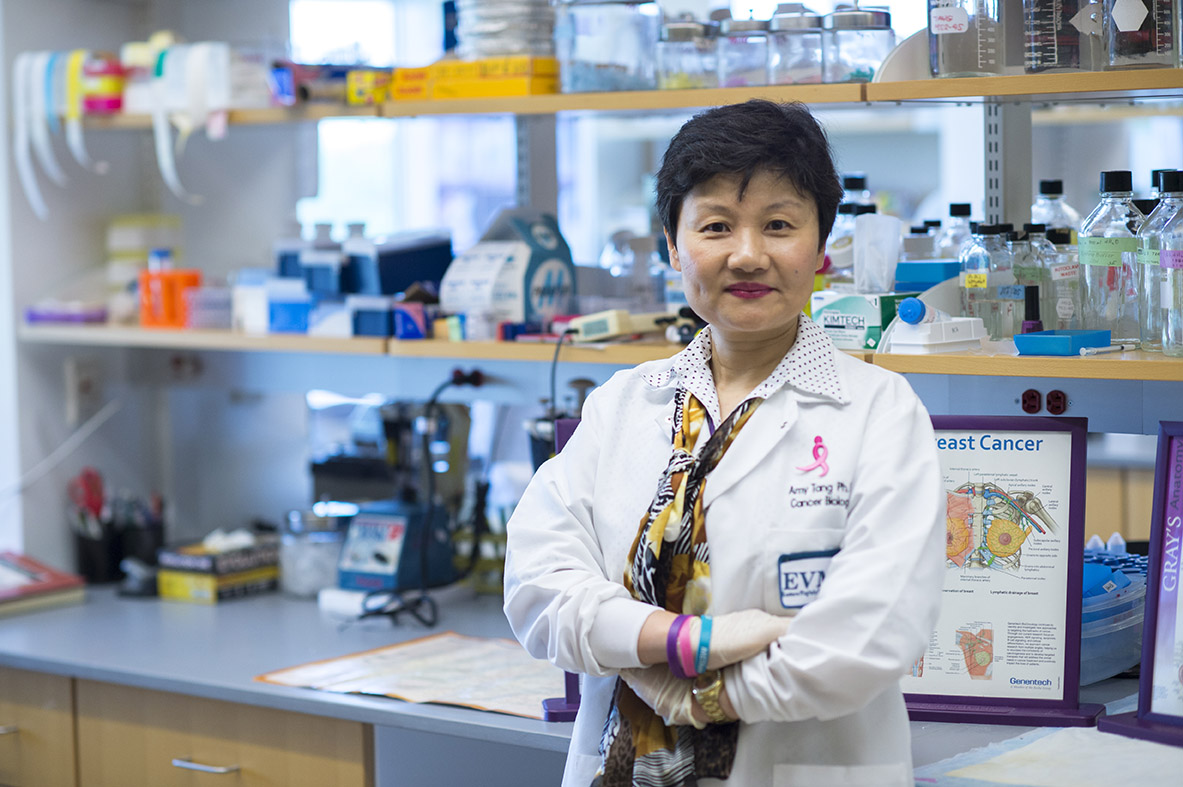 EVMS/Sentara study may benefit breast cancer patients
A recent study conducted primarily by researchers at EVMS and Sentara Healthcare may eventually improve treatments for women with advanced and metastatic breast cancer.
The study demonstrates that two biomarkers help identify resistant breast-cancer tumors and can differentiate effective from ineffective therapies. In the future, this might help physicians predict tumor recurrences and patient-survival probabilities during first-line breast-cancer treatments. The study, titled "SIAH and EGFR, Two RAS Pathway Biomarkers, are Highly Prognostic in Locally Advanced and Metastatic Breast Cancer," was published online by the peer-reviewed journal EBioMedicine.
"This paper addresses one of the most challenging areas of breast cancer treatment," says William Wasinlenko, PhD, Senior Associate Dean for Research at EVMS, "the diversity of response to therapies in patients with similar types of tumors."
The study's co-lead authors are Lauren Siewertsz van Reesema, MD Class of 2019; Vasilena Zheleva, MD, EVMS Surgery resident; and Janet Winston, MD, of Sentara Pathology and Pathology Sciences Medical Group, Sentara Norfolk General Hospital. It was overseen by principal investigator Amy Tang, PhD, Associate Professor of Microbiology and Molecular Cell Biology at EVMS and a researcher in the EVMS Leroy T. Canoles Jr. Cancer Research Center. Dr. Tang joined EVMS in 2010 after seven years as a faculty member and cancer researcher at the Mayo Clinic.
"The degree of collaboration in this study among EVMS, the Sentara Cancer Network and other participants was remarkable," said Richard Hoefer, DO, Surgical Oncologist and Medical Director of the Sentara Cancer Network.
Additional co-authors include researchers from Mayo Clinic Cancer Center, North Dakota State University, Sentara Cancer Network, Dorothy G. Hoefer Comprehensive Breast Center in Newport News, Sentara CarePlex Hospital in Hampton, Princess Anne High School's International Baccalaureate Gifted and Talented Program in Virginia Beach and Virginia Oncology Associates in Newport News.