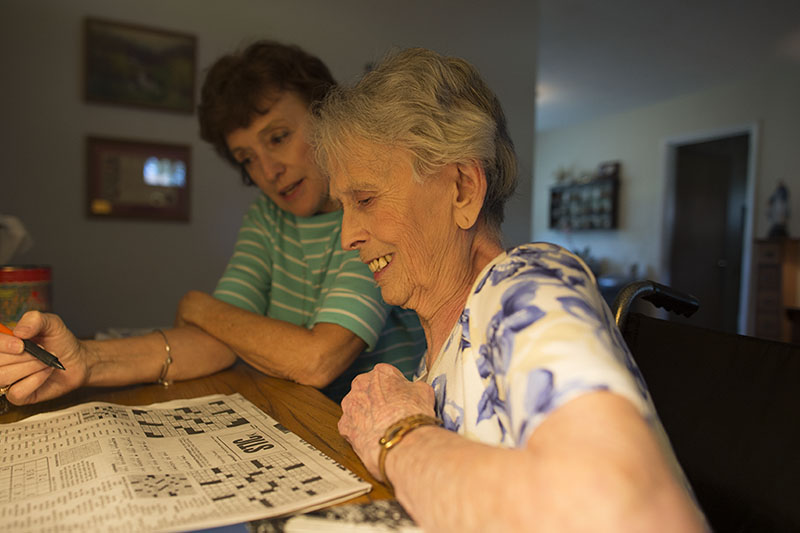 As Time Goes By
Primary-care physicians are learning to help their patients age gracefully
The sunlight beckons. It dances through the glass storm door, stretching across hardwood flooring and stopping just short of Kathleen O'Hara's wheelchair.
The 89-year-old entertains the notion of going outside for a moment, then opts to stay inside where neighbors won't be watching. For the better part of 40 years, she has called this place home. It was polio that took her ability to walk nearly 70 years ago, but it didn't slow her down. She's raised three children from this chair.
"I used to say I could do everything except hang the curtains," Mrs. O'Hara says, while straightening her back in pride. "I could get them down to wash them, just couldn't get them back up."
Nothing could hold back this woman who could boost herself up onto kitchen counters to get things out of cabinets, this woman who used one arm to hold herself up and with the other, hang laundry on the line.
Nothing, that is, until now.
A post-polio onset three years ago caused an infection in her arm that took away her ability to use it, and in some ways, her determination to overcome.
She couldn't get in and out of bed. She couldn't get on and off the toilet. It was a sudden downward spiral.
"It was really a failing on our part because we took for granted that she would always be able to function," says her oldest daughter, Kathy O'Hara. "It's really silly when you think about it because everyone loses some ability to function as they age, but we just never had that critical discussion about mom."
Her mother's sudden decline hastened Kathy's decision to retire, so she could help care for her. Today, Kathy, her sister, brother and sister-in-law share the responsibility.
"For someone who was always so independent, to depend on people, that's hard," Mrs. O'Hara says. "I require so much now, but nobody wants to go into a nursing home. There comes a time that you worry, what's going to happen to me?"
She isn't alone.
The changing landscape of health care
According to the National Academies Institute of Medicine, by 2030, the number of Americans 65 and older is expected to exceed 70 million — a jump from 12 to 20 percent of the population since 2005. That means that by 2020, the number of older people will outnumber children younger than 5 for the first time in history.
"Issues of aging will be the theme of heath care between now and 2050," says Daniel Bluestein, MD, the Charles F. Burroughs Jr. Chair in Family and Community Medicine and Professor of Family and Community Medicine. "The demographics tell us that the prevalence of elders, especially frail elders, will be comparable to the prevalence of diabetes patients being seen in primary care."
And just like you can't send every diabetic to a diabetes specialist, he says, you can't send every senior to a geriatrician.
There simply aren't enough medical professionals going into the specialty. Plus, most people prefer to see the family doctor who has known them for years.
That's why it's vital for primary-care physicians to learn how to care for senior patients, Dr. Bluestein says. A primary-care physician is typically the first contact for a patient with an undiagnosed health concern and the coordinator of any specialty care.
Dr. Bluestein leads several grants related to this issue, including the EPIC-GP (Excellence in Primary Integrated Care-Geriatric Patients) model, aimed at better integrating geriatrics into primary-care practices.
And EVMS' new CareForward Curriculum emphasizes the importance of geriatric care in the first year of medical school, introducing virtual patients with conditions prevalent in the age group.
"We are teaching our new physicians and re-educating practicing clinicians that senior care is part of the core business of primary care," Dr. Bluestein says. "The seeds are being planted here with our young faculty and our learners."
Working the system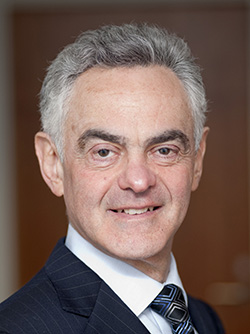 Robert Palmer, MD, stands before an audience of 60- and 70-somethings. He furrows his eyebrows and poses the question, "How many of you hope that you can end your life living in a nursing home?"
Then with a laugh, he asks, "Could you hear me? Seriously, just raise your hand."
In all the years he's asked the question, only one person has raised his hand.
According to the 2015 publication Medicare & You, as many as 70 percent of people over 65 will need long-term-care services and support at some point in their lives.
But despite knowing the typical pitfalls of aging, Dr. Palmer says, many people are still not prepared for it.
"Think of aging like driving a fancy sports car on a flat road," says Dr. Palmer, the John Franklin Chair of Geriatrics and the Director of the EVMS Glennan Center for Geriatrics and Gerontology. "You're driving along at high speeds doing great, and suddenly you hit a brick wall."
That wall can be a number of illnesses or incidents that are more easily overcome at a younger age.
"When people are over the age of 80, they are in a vulnerable place in their lives where an illness or injury can be catastrophic, "Dr. Palmer says. "It's important for doctors to talk to patients and their families earlier about how to avoid crashing into that brick wall."
"Where you are going to live, how long you are going to drive, what do you want in place 10 years or 20 years from now, these should be conversations, " Dr. Palmer says.
Which is why it's important that those in their 60s look at their own health and seek out preventative care and interventions to address health concerns that could impact quality of life and independence down the road. Talk to your family and your physician about your preferences and plan things out, Dr. Palmer says — physically, financially and legally.
"There should be no surprises," he says. "Where you are going to live, how long you are going to drive, what do you want in place 10 years or 20 years from now, these should be conversations."
At 69, Linda Hawkins found herself battling health issues on several fronts — from diabetes to neuropathy, heart issues to joint pain. The former school teacher and grandmother of two didn't think her health would be an issue so early in her retirement years.
"My mother is 91 and she is much healthier than I am," Mrs. Hawkins says. "She has to take only one pill a day; I take a handful."
That reality has driven Mrs. Hawkins to take better care of herself.
She is tackling her health issues and taking advantage of Medicare Wellness visits with her family physician. She also is looking at downsizing to a smaller home where she doesn't have to worry about maintaining the yard but can live unassisted, much like her mother.
"I am an only child and have only one child myself," Mrs. Hawkins says. "I realize that my daughter is less fortunate than I am because she has me and my mother to be concerned about, as well as her own little family."
Discussing the options
At 87, Frances Hicks still lives on her own and drives to church, doctors' appointments and the bank. Her daughter, Heidi Jeffreys, helps to make sure the bills are paid on time.
If her mother needs her, Ms. Jeffreys lives just two minutes away by car, 10 by foot.
"I see my place as being crisis intervention, not as a caregiver or as being in control," Ms. Jeffreys says. While her inclination after her father passed away was to step in and take over, she has learned not to take things so seriously.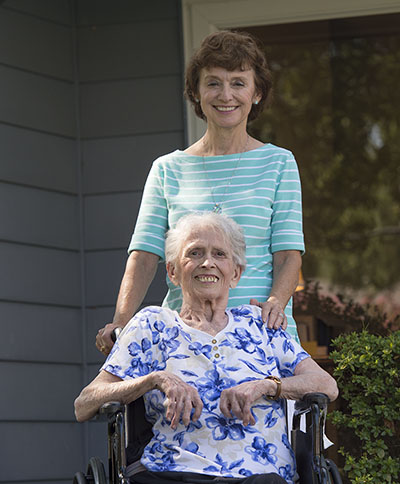 "On one hand, I am her significant other," Ms. Jeffreys says, "But on the other, she is relatively healthy and able to make her own decisions and life choices, so I figure if there's not a crisis, it's a good day."
And good days at any age, she says, are a very good thing.
Today is a good day for Mrs. O'Hara. She props herself up as best she can, elbows cocked at odd angles and back curved. Her fingers trace along the lines of a crossword puzzle, and she softly hums an old, familiar song: Eliminate the negative Latch on to the affirmative Don't mess with Mister In-Between.
Tomorrow she will have cataract surgery to help improve her eyesight. Soon, there will be tougher conversations about where and when she will have to move.
But for today, this puzzle is the most complex thing she faces, and she has "Little Kathy" to help her along the way.
"We are very fortunate," Kathy O'Hara says. "In some families, there is one person who takes it all on. Among all of us, we will do the right thing."