Mogadishu to Middlebrook: 1983 graduate answers medical calling
In exam room one, a glossy poster depicting the signs and symptoms of osteoporosis finds its home on a wall next to a drawing of a Delta Force battle. At any other doctor's office, these posters may seem an odd juxtaposition. But here, in this small Virginia town where John O. "Rob" Marsh, MD (MD '83) practices, medicine and military hero are synonyms.
At first glance, Dr. Marsh is like most folks who call Middlebrook, population 215, home. He is a volunteer fireman, Sunday school teacher and farmer. Even in conversation, Dr. Marsh sounds the part, a country boy who traveled to Hampton Roads to earn his medical degree.
"I came to EVMS to learn medicine and to be inspired," he says. The school didn't disappoint. "The focus on community and how medicine can help to serve people helped to shape me as a doctor."
But there is more to this proud country doctor than what you see at first glance. That Delta Force drawing that hangs in exam room one paints a much bigger picture — one depicted on the silver screen.
Don't let the plaid shirt fool you. Dr. Marsh is one of the most decorated military physicians in the United States: He received the Legion of Merit, two Bronze Stars, a Purple Heart, the Department of Defense Meritorious Service Medal and the Army Meritorious Service Medal.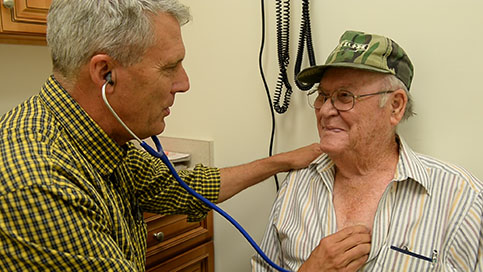 Yet he is unassuming, almost too shy to talk about the life he once led as a flight surgeon for Delta Force, the Army's Special Forces unit. He gets a little quieter, more reserved, when the conversation turns from his medical school days at EVMS to his mission in the battle of Mogadishu, Somalia, in October 1993.
Back then, U.S. troops had been pinned down during heavy combat in Mogadishu and suffered massive casualties. Dr. Marsh and his fellow medics treated nearly 60 in all. Two days later, he himself was hit when a mortar exploded. Shrapnel pierced the artery in his leg and more ripped through his abdomen. Still, he cared for those injured around him.
This was not exceptional, Dr. Marsh says. This was his duty.
Not something to boast about.
In fact, when Hollywood producers called during the making of the 2001 blockbuster hit "Blackhawk Down" to ask about his role in the battle, he didn't answer.
He also didn't watch the movie. And despite the notoriety that came with it, Dr. Marsh is more focused on his present mission — providing primary care in rural Virginia.
While the outside world may know Dr. Marsh as a war hero, folks in this town see him as a hero for returning to his rural roots to practice medicine. Most patients don't even make mention of Dr. Marsh's Hollywood claim to fame. Here, he is just "Doc."
Today, he operates two primary-care practices: one in Middlebrook, the other at a truck stop in Raphine; conducts rounds at two hospitals; is the sole physician at a long-term-care facility run by Mennonites; and does house calls for patients who can't get to his office.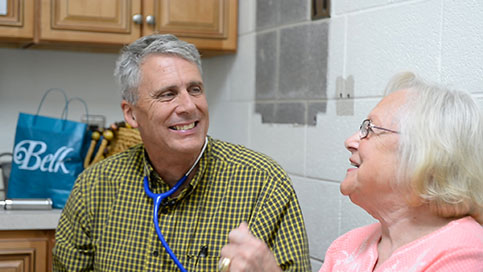 "There is a real need here," Dr. Marsh says of the community where his family has roots dating back more than 250 years. Roots to which he was eager to return.
For Dr. Marsh, being a military doctor was more than a career, it was his calling. Now his calling is rural medicine.
And it's no less rewarding, Dr. Marsh says.
"Some of my patients live 15 or 20 miles away and don't have the transportation to see me or have medical conditions that prevent them from traveling," he says. "I like house visits because you get to know patients on a personal level when you visit their homes. You get to see how they live and gain a real appreciation for how your medical care fits into their lifestyles."
His Interstate 81 truck-stop practice makes him accessible to the nearly 1,000 truck drivers who stop there every night. His plaid shirts and knowledge of crop prices make the community feel comfortable. And his dedication to hosting medical students on rotation teaches them the importance of rural primary care and makes him an invaluable member of the EVMS alumni community.
"EVMS imparted on me the importance of citizenship and of serving the community," he says. The school's focus on providing primary care to communities in need planted the seeds of family medicine that stayed with him and inspired his career.
"I look at my years at EVMS as the best years of my life."