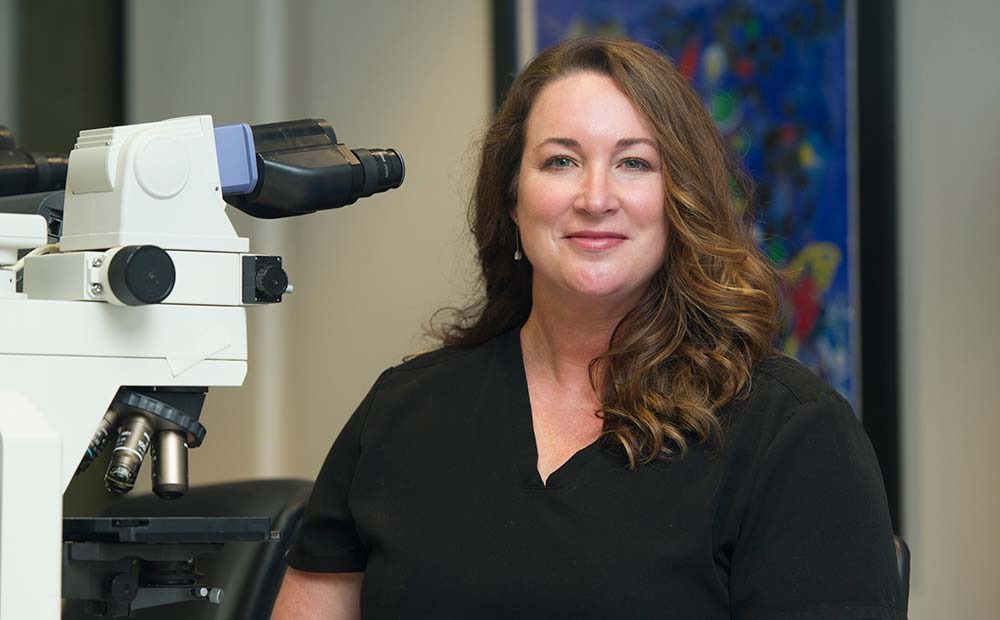 alumniConnections
Dermatologist pays it forward at EVMS
For Molly Smith, MD, two things take up most of her free time: Coldplay concerts — she's been to six — and Eastern Virginia Medical School.
Dr. Smith (Biomedical Sciences '97, MD '01, Dermatology Residency '04) was introduced to EVMS during a summer internship in the school's biochemistry lab. She had always been attracted to science though she didn't plan to be a physician — she thought her interests would lead her toward research.
But during her internship, she talked with medical students working in adjacent labs about their experiences. And that changed her course. Today, Dr. Smith practices at Pariser Dermatology in Hampton Roads, where her focus is general dermatology and dermatopathology. Whether she's helping a teen suffering with acne or an adult who's embarrassed to go to the beach because of psoriasis, Dr. Smith enjoys giving patients a new outlook on life.
"Dermatology can dramatically change how people feel about themselves," she says. "I love that. I feel like I ended up in a field that makes me very happy. My relationship with my patients has been so rewarding."
In 2013, Dr. Smith was voted "Best Dermatologist" by Hampton Roads Magazine (now Coastal Virginia Magazine), an accolade she credits to EVMS.
"I had such a great experience with my training at the school," she says. "I got a very well-rounded education — a lot of hands-on experiences with patients, plus different physicians to train with. And I feel like the staff did a great job of preparing me to enter the real world."
Over the years, Dr. Smith has given back to the school that did so much for her. She helps train future dermatologists, serves as clinical faculty and allows residents to rotate with her at Pariser. She also is a member of the 1973 Society, which honors alumni for their philanthropic commitments, and a former member of the alumni board. She currently volunteers with the school's student-run HOPES Free Clinic and the Mock Interview program, which helps prepare students for residency interviews.
The best part of her involvement, she says, is watching dermatology graduates start practicing. "And then they do what I do — help teach new dermatology residents. It's been fun to see that circle of life, where they also feel the need to give back. I like to think I help encourage that by demonstrating how much I enjoy doing the same thing."
A page from Dr. Smith's (year)book