New research will probe depths of the brain in search for cure to HIV
Each day, millions of people swallow a handful of pills to stave off the HIV virus. The treatment has saved countless lives.
But the medicine only keeps the virus in check. HIV still lingers in the body, often resulting in cognitive impairment and triggering chronic health problems, including cardiovascular disease and diabetes.
Global
EVMS scientist Woong-Ki Kim, PhD, Professor of Microbiology and Molecular Cell Biology, envisions a day when someone with HIV will take a course of pills over a couple of weeks and then be free of the virus. Forever.
That's the promise of new research that Dr. Kim is conducting in an animal model in his EVMS lab, thanks to a five-year, $3.5 million grant from the National Institutes of Health.
Dr. Kim's research focuses on a type of immune cell known as a macrophage, an important first line of defense against disease.
"Our bodies are constantly exposed to pathogens but people don't usually develop disease largely because of macrophages," Dr. Kim says. "Macrophages engulf those pathogens and die so that the pathogens cannot infect important organs."
The scenario is different, however, when it comes to HIV. The HIV virus is a shrewd opponent. It has adapted and learned to subvert macrophages and recruit them for its deadly mission.
Scientists have known for years that the virus survives somewhere in the body in spite of antiretroviral treatment. Using autopsy tissue, Dr. Kim and his lab were the first to show that HIV hides exclusively within macrophages deep in the brain.
When a patient takes medication to fight HIV, the medication kills the virus circulating in blood but can't penetrate the "blood-brain barrier," a defense mechanism ironically meant to protect the central nervous system. The HIV, stored in reservoirs of macrophages, stays safely hidden within.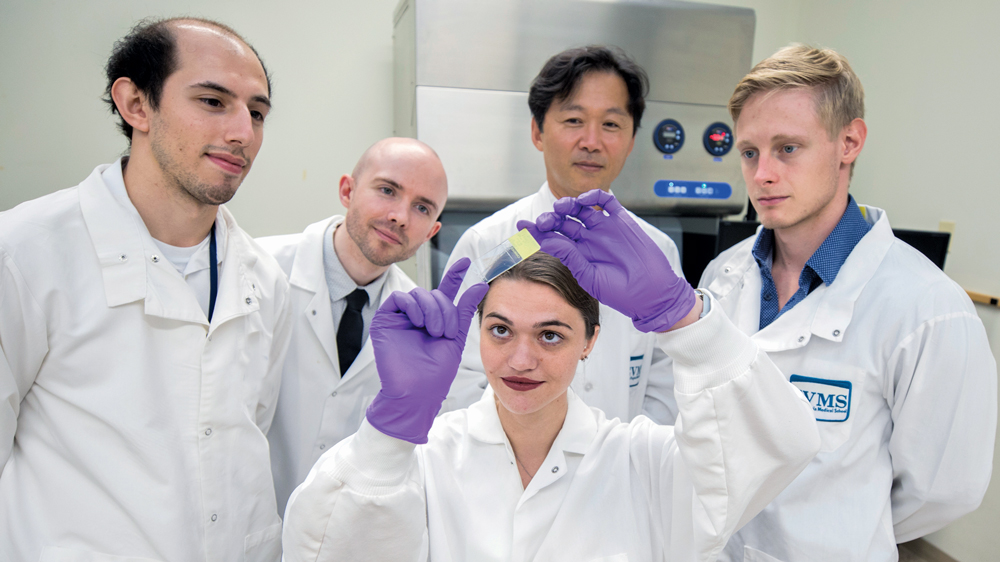 As part of his grant, Dr. Kim will study an experimental medication that can bypass the blood-brain barrier and target the protein known as colony-stimulating factor 1 receptor (or CSF1R). The protein appears to play a critical role when the HIV virus highjacks and infects macrophages.
Dr. Kim believes that by inhibiting CSF1R, they can kill HIV-infected macrophages and in the process rid the body of all HIV virus. The body then will naturally replace the dying macrophages with healthy cells during standard antiretroviral therapy.
If the research is successful, it will be welcome news to the estimated 37 million people globally are living with HIV/AIDS.