Geoff Norman, PhD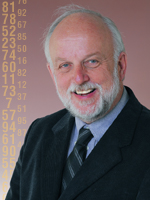 Geoff Norman, PhD, is an Emeritus Professor of Clinical Epidemiology and Biostatistics at McMaster University. He received a BSc in physics from the University of Manitoba in 1965, a PhD in nuclear physics from McMaster University in 1971 and an MA in educational psychology from Michigan State University in 1977. He is the author of 23 books and book chapters in education, measurement and statistics and he has written more than 300 journal articles. He has won numerous awards, including the Hubbard Award from the National Board of Medical Examiners, the Outstanding Achievement Award of the Medical Council of Canada, the Distinguished Scholar Award of the American Educational Research Association and the Karolinska Prize for Lifetime Achievement in Medical Education. He held a Canada Research Chair from 2001 to 2015. He was elected to the Royal Society of Canada in 2007 and received an honorary doctorate from Erasmus University, Rotterdam in 2010.
Teaching and assessing clinical reasoning
Simply put, clinical reasoning is the extent to which a student can arrive at a diagnosis. Dual process theory as applied to clinical reasoning includes system one (experiential) and system two (analytical) processes. Dr. Norman demonstrates that clinical reasoning is not necessarily about any general skill, but is more about the knowledge base you have. With this in mind, teaching clinical reasoning is about supplementing actual patient cases with simulated experiences (e.g., standardized patients, written cases) and assessment is about giving lots of cases and assessing whether the correct answer was found.
At the end of the professional development byte, you will be able to:
Apply the dual process theory of clinical reasoning to medical education
Explain the reason for medical errors from the perspective of cognitive psychology
Watch this professional development byte:
Resources
Norman G.R., Monteiro S.D., Sherbino J., Ilgen J.S., Schmidt H.K., Mamede S. (2017) The Causes of Errors in Clinical Reasoning: Cognitive Biases, Knowledge Deficits, and Dual Process Thinking. Acad Med. 92:23-30
Monteiro S.D., Norman G.R. (2013) Diagnostic reasoning: where we've been, where we're going. Teach Learn Med. 25:S26-32
Norman G.R., Young M.E., Brooks L.R. (2007) Non-analytical models in clinical reasoning: The role of experience in clinical reasoning. Medical Education. 41:1140-1145
Dr. Norman has disclosed he has no relevant financial relationships.