Aviad Haramati, PhD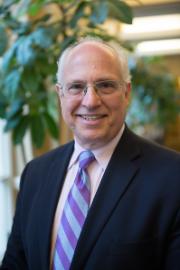 Aviad "Adi" Haramati, PhD, is Professor of Integrative Physiology in the Departments of Biochemistry, Molecular and Cellular Biology and Medicine (Nephrology), Director of the Center for Innovation and Leadership in Education (CENTILE) and co-director of the Complementary and Alternative Medicine Program Graduate program at Georgetown University Medical Center (GUMC). Dr. Haramati seeks to improve medical education across the globe, especially with regard to the intersection of science, mind-body medicine and professionalism. He has chaired a number of international conferences, including the CENTILE Conference on Strategies to Promote Resilience, Empathy and Wellbeing in the Health Professions: An Interprofessional Forum. Dr. Haramati has been a visiting professor at over 80 medical schools worldwide.
Managing stress, building resilience
In this professional development byte, Dr. Haramati discusses the issue of burnout including an explanation of the drivers of burnout, why it is happening now and how to address potential solutions. He describes the Mind Body Medicine program at GUMC.
At the end of the professional development byte, you will be able to:
Determine drivers of burnout and identify potential approaches to solutions
Watch this professional development byte:
Resources
Krasner, M.S., Epstein R.M., et al. Association of an educational program in mindful communication with burnout, empathy and attitudes among primary care physicians. JAMA. 2009;302(12):1284-1293
Shanafelt T.D., Hasan O., Dyrbye, L.N., Sinsky C., Satele D., Sloan J., West C.P. Changes in burnout and satisfaction with work-life balance in physicians and the general U.S. working population between 2011 and 2014. Mayo Clin Proc 2015;90(12):1600-1613
Talisman N., Harazduk N., Rush C., Graves K., Haramati A. The impact of mind-body medicine facilitation on affirming and enhancing professional identity in health care professions faculty. Acad Med. 2015; 90(6): 780-4
West C.P., Dyrbye L.N., Erwin P.F., Shanafelt T.D. Interventions to prevent and reduce physician burnout: a systematic review and meta-analysis. Lancet 2016, 388: 2272-2281
Dr. Haramati has disclosed he has no relevant financial relationships.