Rebecca C. Britt, MD, FACS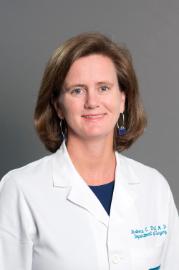 Rebecca Britt, MD, FACS, the Robert L. Payne Chair in Surgery, the EVMS/Sentara Endowed Chair for Academic Leadership Advancement in Surgery and Professor of Surgery, earned her MD degree from Eastern Virginia Medical School in 1998. She completed her General Surgical Residency at Boston Medical Center in 2003 and her Surgical Critical Care Fellowship at EVMS. In 2004, she joined the faculty at EVMS, was promoted to Associate Professor in 2011 and Professor in 2017. Dr. Britt is the First Vice President of Southeastern Surgical Congress. She is the past president of the Virginia Chapter of the American College of Surgeons. She was a member of the Executive Committee for the Young Fellows Council of the American College of Surgeons from 2011 to 2016, where she directed the Mentoring and Speed Mentoring Programs and the Chair of the Advocacy workgroup. Dr. Britt is an active participant in resident and medical student education, leading several multidisciplinary curriculum development groups for procedural simulation.
Making things count twice
In this professional development byte, Dr. Britt will share her experience of doing work that fits in one of the four academic mission areas (clinical, teaching, research/discovery and administrative) while making it count in another. For example, combining the implementation of a new approach to teaching with scholarship or a new clinical procedure with research. In addition, she discusses approaches to achieving work/life balance.
At the end of the professional development byte, you will be able to:
Identify how to make an activity count in more than one academic domain in your academic career
Relate examples given to one's own personal work circumstances
Watch this professional development byte:
Resources
Dr. Britt has disclosed she has no relevant financial relationships.