Ronald Flenner, MD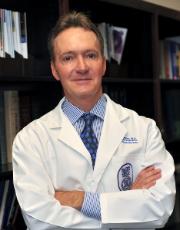 Ronald Flenner, MD (MD '89), Vice Dean of Academic Affairs is the James E. Etheridge Distinguished Professor. During his 14 years as clerkship director for EVMS Internal Medicine, his leadership transformed medical students' educational and advanced the clerkship to the highest rated clerkship at EVMS. In 2012, he led the Liaison Committee on Medical Education re-accreditation process at EVMS. Dr. Flenner's educational involvement extends nationally including the National Board of Medical Examiners and the Association of American Medical Colleges. In 2013, he was awarded the American College of Physicians' Virginia Academic Teaching Award.
Letters of recommendation: Medical students for residency applications
Though there has been a growth in medical student numbers, but not a corresponding growth in residency slots, there is increased competition for medical students applying to residency programs. A well-written letter of recommendation is an important component of the residency application. At EVMS, there is a process for medical students to request letters of recommendation from faculty. There are various templates for faculty to use when constructing and writing the recommendation letters.
At the end of the professional development byte, you will be able to:
Describe the process for creating letters of recommendation
Identify important deadlines
Identify the important and relevant components of a letter of recommendation
Watch this professional development byte:
Resources
Dr. Flenner has disclosed he has no relevant financial relationships.