Paul Aravich, PhD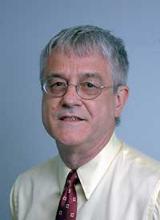 Paul Aravich, PhD, Professor of Pathology and Anatomy at EVMS, is dedicated to using community service to promote altruism and duty in students. Dr. Aravich is involved with multiple award-winning community service efforts. He has received numerous accolades for his community service efforts and notable distinctions, including the Alpha Omega Alpha Glaser Distinguished Teacher Award. Dr. Aravich was also recognized by the AAMC for an EVMS partnership with local Huntington's disease advocates. He is co-director of the EVMS-Sentara Mini Medical School program, which the National Institutes of Health called innovative. Dr. Aravich organizes preclinical, interprofessional teaching panels for serious neurological psychiatric disorders that involve community members, caregivers, local advocacy groups and veterans.
Community engagement
The Flexner ethic speaks to the notion of health care professionals being "social change agents and leaders for the greater good of the community." There are national standards for community engagement including:
American Association of Medical College (AAMC) Attributes of Professionalism
Institute for Healthcare Improvement Triple Aim
Institute of Medicine recommendations to promote: Community links, social support, public health and coordination of care
Liaison Committee on Medical Education (LCME): Interprofessional standard (ED-19-A) and service learning standard (IS-14-A)
At the end of the professional development byte, you will:
Relate the basic characteristics of community engagement type activities
Describe an activity that involves community engagement
Identify the four AAMC attributes of professionalism
Watch this professional development byte:
Resources
The Medical School Objectives Writing Group. Learning Objectives for Medical Student Education - Guidelines for Medical Schools: Report 1 of the Medical School Objective Project. Acad Med. 1999 Jan;74 (1):13-8
Dr. Aravich has disclosed he has no relevant financial relationships.